Mayor launches 18th Arts Festival Programme at touch of a screen!
The line-up for the 18th Hebden Bridge Arts Festival has been unveiled with two weeks of music, theatre, comedy and literature set to light up the town this summer.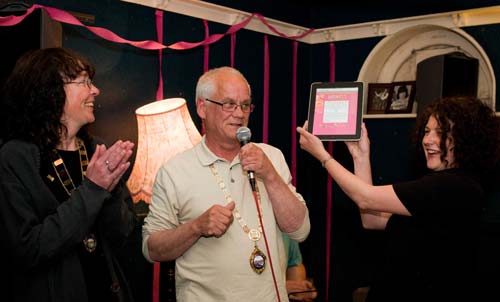 Mayor of Hebden Royd Town Council, Cllr Robin Dixon, uses an iPad
to launch the Festival's website. Photos: Sarah Mason. Click photo to enlarge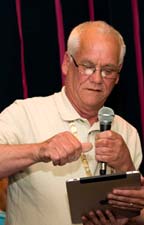 Festival supporters, sponsors, artists and volunteers were at the Festival's launch party held at the Hole in t'Wall, Hebden Bridge on Friday. Mayor of Hebden Royd Town Council, Cllr Robin Dixon, used an iPad to launch the Festival's website at the event. Guests were entertained by music from Dave Nelson and magic from Johnny McQuade and were treated to 18th birthday cupcakes while they browsed the programme.
Highlights this year include jazz trombonist Dennis Rollins, crime writer Val McDermid and poet Ruth Padel. Fri July 1 to Sun July 3 will see a special Piano Weekend at Heptonstall Church featuring Paul Roberts and Nicola Meecham. Comedy fans will not be disappointed either, with shows by Russell Kane and Robin Ince.
A number of special events will mark the 18th birthday of the Festival including new band The Collision, a special cabaret night and an appearance by pop legend Peter Hook, who will dj at the Trades Club.
Festival Coordinator Rebecca Yorke said, 'We are thrilled to unveil such a diverse programme. The Festival is a celebration not only of local talent but also of national and international artists and the feedback from our launch guests has been extremely positive, with bookings getting off to a good start.'
Complementing the Festival will be a full programme of art exhibitions, the Open Studios trail, street entertainment and a Fringe festival held at The White Lion Hotel.
The Festival runs from June 24 to July 10 and is supported by Arts Council England, Hebden Royd Town Council, Welcome to Yorkshire and Sweet & Maxwell.
Postal and online booking have now opened. Visit our website for tickets and the latest information. Printed brochures cost £1 and are available from local libraries and Visitor Centres, The Book Case, Hebden Bridge Bookshop and other Hebden Bridge businesses. The box office in Albert Street, Hebden Bridge, opens on June 11.
For Friends scheme and sponsorship enquiries, contact Rebecca Yorke via hbfestival@gmail.com or on 01422 842546 (office hours only please).