Saturday in the Square
Hebden Bridge Arts Festival Opening Weekend
The rain clouds couldn't stop people smiling on Saturday when the 18th Hebden Bridge Arts Festival got underway in St George's Square. The event followed a sell-out Pay What You Want performance of Hebden Shorts on Friday evening and there was a buzz in the air. Audiences were treated to a programme of entertainment from fire-juggling unicyclists Fools Rush In and Betty Brawn The Strong Lady, who amazed onlookers when she tore a book in half and lifted two men off the ground. There was music from Tenth Avenue Band, Calder Valley Voices and Tribu and walkabout fun from Canopy in the Orchard and Chicken Coup by Mind the Gap Theatre Company.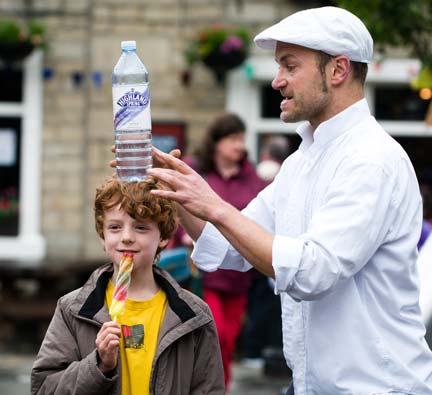 Photo: Sarah Mason of Zebra Photography
Although the sunshine wasn't in attendance, the brightly coloured knitted bunting, chains and buns brought a smile to people's faces. Schools, community groups, ardent knitters and members of Hebden Bridge WI have been knitting triangles for the project over the last few months and Festival organisers have been overwhelmed by the resulting work. The yarnstorming took place very early on Saturday morning as Festival Coordinator Rebecca Yorke explains, "It was a wet grey morning and I expected to be on my own with several binbags of knitting. To see so many people turn out to help adorn the square was just brilliant. This project reached many different members of our community and it's been fun watching people find the piece they knitted. We'd like to thank everyone who worked so hard, especially Helen Baron of Ribbon Circus and also Kaya at Watergate Tearooms who warmed up the yarnstormers with tea and bacon butties."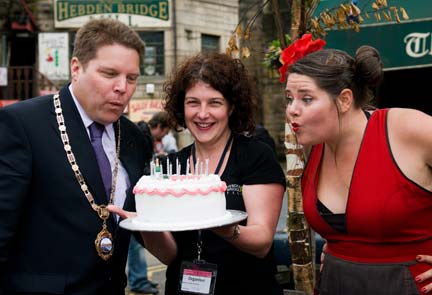 Photo: Sarah Mason of Zebra Photography
Mayor of Hebden Royd Town Council, Cllr Scott Trickett, officially opened the Festival by blowing out 18 candles on a cake baked specially for the occasion by Marie Greenwood of Cake Secrets.
Hebden Bridge Arts Festival 2011 is supported by Arts Council England, Hebden Royd Town Council, Calderdale Council, Sweet & Maxwell and Welcome to Yorkshire. Tickets for all events are now available from the Festival box office on Albert Street (01422 842684) or online via the Festival website at www.hbaf.co.uk where you can also sign up for regular email updates. Facebook users can also stay in touch via www.facebook.com/hbartsfestival.