Lives Remembered - Frank Woolrych
---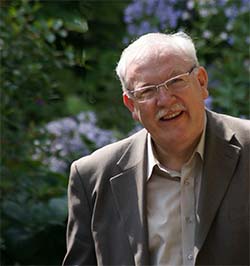 Frank Woolrych was born a Lancashire Lad but devoted much of his latter years to promoting the heritage of the Upper Calder Valley in Yorkshire. This was his passion.
Born in Didsbury in 1944 and educated locally, his most memorable achievement was his prowess at running; only first would do! He started his working life at Park Wireless, Radio and TV but that job wasn't for him so changed to a job at a firm called Foxalls. They were suppliers of photographic material and it was there that he furthered his interest in photography.
Later he got a job running the chemist department at the local Co-op and it was there that he met the love of his life, Beryl, his wife of 54 years. A new job with the Mander Frame Company gave him the opportunity of travel throughout England and Scotland and this fostered his love of driving. The firm was taken over by a Birmingham based company, and his career moved to selling their range of high-end bathroom fittings. With his usual enthusiasm he embraced the progress of new technology. He was the first in the company to have a mobile phone and sought to improve his understanding of computers by attending evening classes.
It was through the sale of photo frames that he met Alice Longstaff and they struck up a great friendship. He would often visit Hebden Bridge on a Saturday with his wife Beryl and daughters Andrea and Elaine, and of course they would call at Alice's shop. When Alice died in 1992 she bequeathed her archive to Frank.
When Hebden Bridge Local History Society was planning a publication to celebrate the Millennium they naturally turned to Frank for images. Frank threw himself into that project and the very successful book "Century of Change" was the outcome, plus he became President of the Society from 2000 until 2012. Naturally he persuaded the committee that a website was essential.
Under Frank's leadership the History Society thrived and forged a strong association with Pennine Heritage at the Birchcliffe centre. Not only did the society set up a permanent home for their archives there, but Frank also found a home for the Alice Longstaff photo archive. He had already made a start at digitizing the archive but the new home gave an impetus to this and with the help of Ann Kilbey the Pennine Horizons Digital Archive was created and it now includes nearly 50,000 images from various collections from the local area.
Frank became closely involved with Pennine Heritage, was involved with various projects to secure the continuance of the centre and the archives. The latter was so well regarded in Yorkshire that many other groups would visit for advice and training. The joint Pennine Heritage and Local History archives are now becoming a significant heritage resource.
He greatly respected the traditions of the area. He took on the role of president of the Hebden Bridge Literary and Scientific Society which was originally formed in 1905 to encourage learning; Frank was keen to revive its former standing and this has now been achieved over the past few years with a series of talks from eminent speakers.
He also contributed his expertise to many publications on local history, not only with images but also with publishing help. He became a well-known figure in the Hebden Bridge area, entertaining many groups with his presentations; he had a tremendous capacity to engage with as well as entertain an audience. He made many friends along the way, he was a real people person, always having time to chat, to admire a hat worn by an older lady, speak to a child or pat a dog, and his enthusiasm was infectious. Together with Ann he was a runner up in the Calderdale Volunteer Award, 2011 and the Calderdale Council Citizen Celebration Award, 2014.
He leaves a wife Beryl, daughters Andrea and Elaine, grandsons Matthew, Joey, Jack and Harry, and great grand son Jamie.
He will be sadly missed but his legacy will perpetuate for many years to come.
From Ann Kilby and Barbara Atack
Sunday, 1 March 2020