Lives Remembered
- Glyn Hughes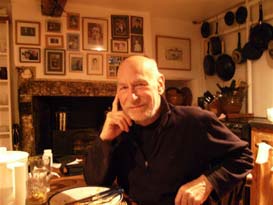 Glyn was awarded the Guardian Fiction Prize as well as the David Higham Prize for his first novel, Where I Used To Play On The Green.

A Guardian poll of readers in 2005 chose two of his books - from the whole history of literature - as "Eco-Classics" (a.k.a. "Great Classics of British Nature Writing"), making him almost the only author nationally to have more than one title selected. Also picked by The Times as one of the "Six best authors ever on the North of England".
From Glyn's website
Yorkshire Post - obituary (28 May 2011)
From Chris Ratcliffe
Thursday, 26 May 2011
I have just heard the sad news of the death of Glyn. A remarkable man and a first class writer. Long before I became friends with him, I was knocked out by Where I used to play on the Green which won the Guardian Fiction prize, and gave a vivid picture of life in these hills in the early 19th century.
I loved hearing the sound of his voice reading his poems, some recordings of which are available online.
We both loved walking and would often meet by chance on the canal path or in the Crags. His wonderful house in Millbank was a delight to visit, originally bought for £50 or £100!
I will never forget him reading lines from "Measure for Measure" Act III lines 5-34 at my partner Elaine's funeral.
In an email earlier this year, Glyn wrote, "I feel as though I've lived not one but several lives through my 75 years, all different . . . And I still feel curiously, inside myself, fighting fit, and even people tell me so, looking it. Like William Blake seems to have been ... waiting 'but to go into another room' . . . My soul feels safe in its cage, and calm."
Glyn enjoyed Hebden Bridge and gave readings here regularly. It was a privilege to have known him.
From Gwen Goddard
Thursday, 26 May 2011
The passing of a wonderful man, Glyn Hughes.
I first met him in 1994 when in such a very small way I resurrected the Hebden Bridge Arts Festival and Glyn read some of his work to a little gathering (everything was little in those early days of what is now a big and important festival). He quickly became a dear friend.
Glyn will have splendid obituaries in the quality papers and literary journals but here I simply want to record his loving nature, that big grin, those great hugs and his very special fish stew.
From Graham Ramsden
Thursday, 26 May 2011
I used to see and talk to Glyn walking in his beloved countryside around Mill Bank and Cottonstones which inspired his work over the years when I was the Area Countryside officer for the area.
He was quite a shy man and declined my invitations to lead a guided walk to visit locations used in his books and poems stating they were the "Landscape of the Imagination" and not actual places.
The last conversation we had was at a book reading at Elland Library when I was the only other male in an otherwise female group of attendees when The Hawthorn Goddess was discussed.
A great Pennine Writer who will be missed.
From Claas Kazzer
Thursday, 26 May 2011
We only met in person four or five times, because of the distance Mill Bank to Germany. Yet it always felt as if one hadn't been away, except for the wealth of news to be exchanged. Warm and welcoming. The little kitchen at Mill Bank.
I still remember a grand evening several years ago - the last but one time we met. It was full of stories, lots of laughter, good wine and the best Shepherd's Pie I've ever had, made by his lovely wife/partner Liz.
The last time I saw him was in September 2010.
We sat in the kitchen and talked - about personal things (again we hadn't seen each other for years) and his upcoming poetry collection. We also talked about the bull-box itself, and about his recent bout of writing and painting. A friend of mine had just recovered from lymphoma, was even doing sports again. There was hope.
Glyn was weak but cheerful, and joked as he always did.
He said how much his illness had changed his writing (and painting), and how much he enjoyed to be writing and painting at such an intensity. In our last e-mail exchange early this year he repeated this conviction: "I wish the man with the scythe had come 50 years ago, he has taught me a lot of late", he wrote. Such sentences were typical of him as I knew him.
Even though we met so rarely, he'll be much, much missed. And remembered, there in the little kitchen.
My deep condolences to his partner Liz.
From Rob Blake
Friday, 27 May 2011
Millstone Grit was my introduction to Calderdale when I landed here a decade ago, and it remains one of my favorite books. Glyn Hughes had a way of seeing and writing about this landscape (and the people who have shaped it) that conveys a depth of understanding not to be found anywhere else.
I never had the chance to meet him in person, but I did communicate with him by email a few times over recent years and he told me that his dying wish was to be buried with a barrel of Taylor's Landlord. I hope he gets his wish.
From Dai Hallgarth
Friday, 27 May 2011`
Affected by The Hawthorn Goddess unlike any other book I'd read in years, I was thrilled to discover that Glyn and I had a mutual friend who proceeded to set us up on something of a "blind date" at the White Lion.
I remember how absurdly nervous I was beforehand yet how swiftly I was reassured and put at ease by Glyn's wonderful warmth and that lovely big grin already mentioned by Gwen.
He became a true friend and mentor through difficult times, encouraging and supporting me in my efforts to start painting again.
All our subsequent meetings, sadly so few, were a delight, anticipated with great joy - in such contrast to that first meeting of idol and "groupie".
Oh gosh Glyn, I will miss you. Thank you for all your wonderful words, written and spoken, and for your joyful, colour-soaked last pictures.
From Pam Galloway, Vancouver, Canada
Sunday, 29 May 2011`
I am so sad to hear the news of Glyn's death which he approached so bravely.
Glyn was both inspiration and mentor to me for close to 40 years after I first heard him read from "Neighbours" in my final high school year, 1971. I held in my head the lines from numerous of those poems, their images so evocative of the Moors he loved, their lines so musical, until I began to write myself in the late 80's. In 2002 or thereabouts I wrote to Glyn to tell him how hearing him read his poetry had lodged in me a desire to read and subsequently write poetry which has lasted me through my life. He and Liz made me welcome on a visit then and I'm so happy I got to meet him and let him know what his writing had meant to me. Since then, he has generously shared new poems and read mine, offering his guidance to me, always welcomed.
I spoke to him on the phone a couple of months ago, so sorry I didn't manage another visit to walk with him, talk poetry over a pint or a glass of wine.
Glyn, you were a man of huge talents, literary and artistic and you will be deeply missed.
From John Billingsley
Sunday, 29 May 2011
My first 'contact' with Glyn was in South India in 1976. I had been backpacking for several months and had holed up for a few weeks in the hill station of Ootacamund (now reverted to its Tamil name of Udagamandalam), enjoying the more temperate climate just as had the colonialists who had 'put the town on the map'.
I came across a private library there, dating back to imperialist days, with a fascinating collection of Victorian and Edwardian archaeological and anthropological works on the area and its tribes. It was extremely cheap to join and for a couple of weeks, normal backpacker lifestyle was suspended.
And it was during that quite blissful fortnight that I found a copy of 'Millstone Grit', and devoured it between glasses of chai. It threw a bridge between the Calder Valley and Ootie, linking my twin presences of the time - it also came to seem in hindsight a message from my future, where these interests fused and I had the great fortune to finally meet Glyn - 15 years after his words had first spoken to me in a town fragrant of eucalyptus oil and the smoke from one of the world's most amazing steam railways.
From David Sissons
Sunday, 29 May 2011
I first met Glyn about six years ago when I interviewed him for the Sheffield literary publication, 'The Inky'. The interview was by e-mail, but I met him around the same time with my partner, Leah Fleetwood. We'd both read 'Millstone Grit' and liked it very much.
He picked us up at the station at Sowerby Bridge in his camper van, and we visited his house at Mill Bank and went for a walk and a drink at Ripponden. I remember the chapel pew in his house, and the stairs! He also had a mandolin on his wall, which I believe his son played.
Subsequently I met him with my friend, Derek Guiton, and I attended a poetry reading he did at the Mechanics Institute Library in Bradford, where Derek's wife, Brenda, worked - Liz was there too.
Glyn's response to nature as a child was identical to mine - passionate, intense and solitary. It was nothing like the response of Ted Hughes - violent, sadistic, predatory, red in tooth and claw. Ted Hughes wanted to see only that side of nature because it maybe suited his own nature. He never wrote about the co-operative side of nature, as seen in ant hills, herds of beasts and flocks of birds. I recognised my own response in Glyn's more recent poems and I told him so. I saw his exhibition at Thornton near Bradford this spring. I offered to show him Ludchurch in the Staffordshire Roaches, where 'Gawain and the Green Knight' may have been based, but we never got round to it, and now we never will. I've lost a kindred spirit.
From Steve Dicks
Monday, 30 May 2011
I first met Glyn in the Seventies through his 'Neighbours' poems and 'Millstone Grit' biography, when looking for a subject for my university final year extended essay. After touring the dusty bookshelves and well-worn grooves of the usual 'nature poets', I was captivated by his fresh, earthy and evocative lines.
A year later, I was flattered to receive his comments and encouragements during a brief meeting in London. We lost touch over time and I emigrated to Australia in the Eighties ? but those Yorkshire images and Glyn's lines still resonated in my memory.
So it was a pure delight to have another reunion just last year, when he and Liz welcomed me into their home and I could thank him personally for the gift he gave us of 'Life Class'. He has shared so many insights into the wonders and workings of nature and ourselves.
He has enriched my life and I am deeply grateful to have been in his warm company.
From Peter Rowlands
Sunday, 5 June 2011
Both of us often solitary walkers, we'd bump into one another somewhere in the landscape and move to easy riffs of conversation before comfortably moving on. Glyn spent Christmas with us once - every bit as affable, words and warmth in equal measure. He wrote a message to my mother in the fly of a copy of Millstone Grit, taking pleasure in connecting her place in a less trod place in New Zealand with that of the cobbled, paved, tussocked hills of Calderdale. Glyn's words wove connections, shifted the everyday and the familiar to sharper resonance.
From Mary-Elizabeth Dawson
Saturday, 20 July 2013
I first ´Met´ Glyn through an Article in The Sunday Times "Writers mature like fine wine".
The theme of the article resonated so much I vowed to email the author to send a hug and kiss of thanks. That same article I came across today when I was rifling through my clippings for wise words to pin up on my Vision Board. As I wanted to know more about Glyn I looked him up and alas that's when I discovered he had passed away.
Two things come to mind; On my writing journey he will be an inspiration and secondly will remind me in future to Act when the urge takes hold. So, as I didn´t contact him back then I do so now to say: Dear Glyn you left a big impression with your Wise Words. Thank you x
From Mark W
Tuesday, 26 May 2020
I lived 3 doors up from him in the 1980's. We talked on the street and occasionally complained about the speed of cars driving through the village. Never realised who he was until his death. A very humble and talented man.