Lives Remembered - Norman Hurst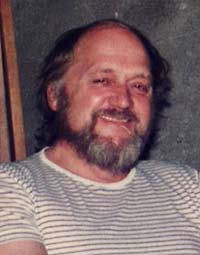 Norman Hurst died at home on Friday, 3 July 2015
See below for responses from Graham Packham, Mick Piggott, Alan Phipps, Veronica Mooney, Pauline Wood, Michael Moss, Bernie Hurst, Alan Sparkes and John Billingsley.
Tuesday, 7 July 2015
I first met Norman and Di in 1964. They were friends of my first wife, and we met at Ken Colyer's jazz club in Soho. Norman was still in the army - the Signals Regiment. He had signed on as a 'boy soldier' and was due to be demobbed after, I think 15 years, in 1965/6. He had picked up an enviable mix of practical skills in the army, both mechanical and electrical/electronic. At the end of his service, with his army bounty, he bought a small unreformed cottage called Littlewood, at the top end of Cragg Vale.
When he left the army he also bought a Ford Van, and with Di, and two other friends set off to drive to India and back spending time in all those Middle Eastern countries that have become no go areas for Europeans for the last 30 years or so. On their return they moved into the house that we had just got a mortgage on in Crouch End. Norman's multi-skills were invaluable in helping us to renovate this very dilapidated house.
We were all active in the Campaign Against Racial Discrimination, the Vietnam Solidarity Campaign, CND, and the Anti Apartheid movement. Through these we became involved with the International Socialists, and around the time of the battle of Grosvenor Square the Hornsey IS branch was formed and began to meet regularly at our house.
We began to go up to Norman and Di's Cragg Vale cottage on a Friday night, helping with various improvements, getting drunk on Saturday nights, and driving back to London late Sunday evening for work Monday morning. The beauty of the valley from their house in Cragg, contrasted dramatically with the dark, drear, smoke stained towns and mills of the valley bottom, especially Hebden Bridge. After a time N and D moved up to Littlewood permanently and we would visit as often as we could, sleeping in their silver-paper lined psychedelic loft complete with music activated lights and a pair of early Hurst-Phillips built speakers. Norman had secured a job with the Post Office due to the electronic skills he had acquired in the Signals.
Two events that particularly stick in my mind from those times. In the late 60s, possibly as a reaction to his long army career, Norman's appearance was 'interesting'. Norman had a substantial beard. He had been thinning on top and to compensate he had grown very long hair but especially long on one side, which was carefully combed over. In those bitter winters of the early 70s, Norman would wear for work, an Afgan sheepskin jacket, and a huge wolf skin hat, that he'd acquired on his travels. The combination of his uncontrolled beard and hair, the very hairy winter clothes, and his occasionally wild eyed look were certainly more Cossack than Scouse. The point of my detailed description is that Norman's Post Office job was to visit police stations all over West Yorkshire to check on the functioning of each station's 4 minute nuclear warning system! The fact that neither his appearance nor his political views were ever challenged is amazing, and perhaps a reflection of more innocent times?
The other event from 1974, also involved the police. We had had many residents at our house in London. In 1970 a friend had been staying who was the girl friend of Stuart Christie who had served 4 years in a Spanish jail following his abortive attempt (aged 16) to assassinate the dictator Franco. Following his early release he was targeted by UK intelligence services and was finally arrested as one of the Stoke Newington Eight. Following a year long remand and lengthy trial he was acquitted of the trumped up charges along with three others. Wanting to get away from London, Brenda and Stuart bought a house near Honley. By 1972 my wife had moved to Linthwaite with our son. During one visit North I was helping Norman put a kitchen in Stuart's house in Honley.
After a day's work we went for drink or two. Driving back over the moor Norman spotted an old steel sink unit in a field. "Just what we need for the new kitchen", he said. Whilst loading it in the back of the van, we also (I'm ashamed to admit) took 3 pieces of dry stone wall to finish off their new fireplace. Another car drove by and Norman gave the driver help to negotiate past us in the narrow lane. Back at the house in Linthwaite we went to bed. At three in the morning 7 police called and arrested Norman and I. It turned out that the car Norman had helped was driven by the owner of the moor top scrap yard! Anxious not to alert the police to Stuart's presence we said we were the only people involved.
At Slaithwaite police station we were interviewed. Norman's appearance was as wild as ever despite him now being an electronics lecturer at Bolton College. I was a student up from London. But once the police realised we were not a gang of metal thieves from Rochdale our charges were airbrushed from history and we got a lift home in the stations best car on condition that we returned the items from whence they came the following morning. It could all have turned out so differently.
From 1977, after I'd moved to Slaithwaite, we spent many happy, sunny days helping Norman and Di reconstruct there farmhouse at Colden and enjoying Norman's generous hospitality. Later still in the early days of the Hebden Bridge Arts Festival, Norman's photographic skills were invaluable in capturing many of the events and exhibitions for marketing purposes, and for posterity.
Norman's passing is tragic and the end of a 50+ year era for me. I'm so glad I was able to talk with him a few weeks ago before his rapid decline. The small group of friends who have been there for Norman and Di week in and out have been magnificent. Di will need them even more in the immediate future.