Lives Remembered - Robin Dixon
---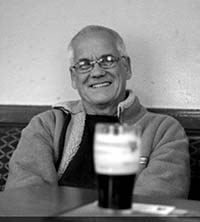 Robin Dixon - who many of you will have know as the chap who helped set up the original Mytholmroyd Flood wardens (then just 3 pre 2015) and their first Chair - passed away last night.
Robin was a very active Labour town councillor for Hebden Royd for many years and was also the Mayor. I know town councillors who served alongside him regarded him in the highest terms, he had a wicked sense of humour and was passionate about the valley.
He was and remains a well respected and all round lovely bloke who had time for everyone he met. We all owe him a huge debt of gratitude for all his hard work on behalf of our area. (The top photo is by Jason Elliott - from his 500 faces of Hebden Bridge project)
He was a longtime Mytholmroyd resident and moved away after living on Longfellow Court to be with his family due to ill health a few years ago.
I know he would be pleased to see all the positive changes and investment in Mytholmroyd and to the thriving flood warden network up and across the valley that he very much kick started. He deeply cared about Mytholmroyd and its community and was very much a doer. I think all those that knew him would agree.
He had his family with him and thankfully didn't suffer. He was in hospital and contracted coronavirus. His familiy don't want flowers or donations but they passed on a contact address for cards and other memories. Get in touch if you'd like those details.
From Scott Archer-Patient
Friday, 20 November 2020
(The second photo is one Robin sent the HebWeb when he was Labour candidate for White Lee ward in 2012)
---
I was so very saddened to read of the recent passing of Robin Dixon on HebWeb.
I first met Robin on a miserable May Day evening back in 2003. The occasion was the count for Town Council elections for Hebden Royd and the venue was Todmorden Town Hall.
We were both candidates for West End ward, he representing the Labour Party and I, the Liberal Democrats.
Over the course of the evening, we exchanged a few pleasant asides and he was warm, witty, and amiable. As the count wore on, he came up to me, quite unbidden, and said that if the vote was close he wasn't going to contest it, nor was he going to ask for a recount. I readily agreed to do the same.
I was shocked then when one of Robin's fellow candidates took him to one side and told him in no uncertain terms that he had overstepped the mark and that the decision was not his to make. Robin stood there smiling and took it in good grace without responding. However, when this rather unpleasant individual turned their back to walk away, Robin blew a cheeky raspberry and winked at me. I knew that I had made a friend. 
As it happened, I beat him by only four votes and true to his word, he did not ask for a recount and was the first to congratulate me on being the third councillor, alongside the first-ever Green on HRTC, and another Labour councillor.
Over the next few years, we bumped into each other regularly and would always stop to have a cuppa or a chat about anything and everything under the sun, art, education, politics, and a shared passion for model railways, at which he was a veritable artistic and technical genius. 
At the next town council elections, in the same ward, Robin joined us on HRTC. This time, I was the first person from "the other side" to congratulate him. We faced off against each other one more time in 2010, this time for a seat on Calderdale Metropolitan Borough Council, and again I was lucky enough to be successful. Once again, Robin shunned party political partisanship and was kind, courteous, and polite in congratulating me in person.
When I "crossed the floor" to join Labour, Robin along with Cllr Dave Young were the first people to be genuinely happy to welcome me aboard.
I shall remember a man who was unpretentious, fun, funny, and a true asset to our community. Not just as a councillor, a flood warden, and Trustee of the Town Hall, but an all-round good egg. He was a genuine community-minded individual who was never afraid to roll up his sleeves and get involved. His stewardship of our town's quincentenary celebrations in 2010 as Town Mayor was a particular highlight. A favourite event of mine was the excellent job he did as MC for the Picture House Gala Night, and where he showed that he (unlike me) could scrub up really nicely!
I shall miss his twinkling eyes, his wicked smile, and his ability to get along with anyone. 
Robin's old school motto was "In Bono Vince" Latin for "Conquer [evil] with Good" which Robin most certainly did.
My deepest condolences to his family and friends.
Dr Nader Fekri
Visiting Professor of Politics
Universidad de San Andres
Buenos Aires
Argentina
Saturday, 21 November 2020
---