Wednesday, 27 February 2019

This is number nine of a regular column from local writer and story-teller, George Murphy.
---
Murphy's Lore 9
---
Sid Field
When they saw me performing monologues about round here, friends who were writers alerted me to Keith Hutson, the Halifax poet, who has been championed by the Poet Laureate. In Troupers, Keith writes about the great entertainers of the past. He recently posted a joke by Sid Field, who died the year I was born.
A young man wanted to be an entertainer, so he went to see an agent.
The agent said, 'What's your specialism, son?'
He said, 'I'm a bird impressionist.'
'Bird Impressionist? Don't waste my time. We've got too many of those already. Get out of here!'
So he flew out through the window.
In safe hands
My present wife (PW) had a close friend called Morag. They got in touch again after 50 years. Morag had just retired from her job as a nurse. At her retirement do, her boss told a tale about when he was a Senior Nurse on Morag's first day on the ward. A patient collapsed and he asked Morag to take out her falsies.
She reached out tentatively…
He said,  'Not her bra, nurse…her teeth!'
Shopping list
In the days before mobile phones, it was my turn to do the weekly supermarket shop whilst my present wife (PW) went clothes shopping at Matalan. I got home to Midgehole feeling satisfied because I'd ticked every item off her shopping list and had just put the kettle on when I realised I'd left PW in Halifax.
The telephone rang…
Planet George
I'm about to wander into the house carrying the recycling boxes and bags, which belong outside. When I open the front door, Rosie, age 5 says, 'You're on Planet George!'
If it's more than my mind wandering off at my age, I don't know. At the club, I buy a half and take it upstairs, pop down to the loo and then buy another half and go up and I'm surprised to find a half is already waiting for me.
Ben Haggarty, the famous storyteller has just turned 60. He asked Rod Dimbleby his age. Then he asked me.
'Perhaps it's time for some new blood,' he said.
Memorial stone
Before the wind turbines were erected, Ovenden moor was known for having the highest pub in West Yorkshire. At one time, dogs must have raced over that bleak moorland, because next to the pub car park, in the corner of a cow trodden, muddy field was a small memorial stone. I used to run across that way and admired the pithy Yorkshire humour of the gracious but grim inscription on the little monument, something like:
Here lie the bodies of Pointer and Bruit,
Who ran in the race and almost got through it,
But they ended their lives in Ogden's conduit.
Zen and zips
In my teens I read Alan Watts and Rollo May on Zen and meditation and I used to stare fiercely at the flowers in the park in search of enlightenment, like using paintstripper to try to understand a painting.
In my 20s, at The Bear, in Todmorden, our friends Judith, Nick and PW were reduced to helpless laughter when the zip stuck on my kagoul and then the kagoul got stuck when I tried to pull the tight, unzipped garment over my head. I spent several hapless, headless minutes with my arms flapping like penguin flippers at the sides of my nylon straightjacket - to the delight of my friends and fellow diners alike.
There seemed no way out of it, but at that very moment of helplessness and letting go, dear reader, I felt a type of Grace - a state of 'mindfulness' perhaps. Inside the tiny world of that synthetic hoodie, alone with my own breathing, I at last achieved Nirvana.
When I was no longer struggling, Nick unpealed me, with a good bit of tugging, into the everyday world again. Slothing off that synthetic skin - to applause from every table - I felt somehow metamorphosed, not unlike a bearded butterfly.
Mr Cholmondeley's brakes
In her supported accommodation at King Cross, Margaret couldn't find the TV remote and told her friend Kathleen, 'I wonder if it dropped into the food parcel we sent to Euthanasia?'
'You mean Ethiopia, Margaret,' said Kathleen.
When we drove Margaret and Kathleen to Midgehole, Kathleen would ask if we could go over the tops, because she loved the scenery. She told us she'd once been a nurse in a private nursing home. One time a poshly spoken, rotund old gentleman got stuck on the edge of the bathtub.
'You'll have to help us, Mr Cholmondely,' she said.
He replied, 'I would love to my dear, but I'm afraid my balls are acting as a brake.'
Once, after a shift, a flasher exposed himself to her at the bus stop. She said, 'Put it away dear, I've been looking at those all day!'
Radio Daze
Out of practice with early mornings, I set the alarm for an interview on Radio Leeds Breakfast Show. I jot a note down beforehand and at 6.53 tell the interviewer that Hippy Valley is my attempt to tell tales about round here since the collapse of the cloth industry.
I do a snippet from The Todmorden Triangle. He gives a plug to my book launch at The Bookcase*.
When I listen to the recording, I wonder if most people, like me, hear a different voice on recordings than the voice they hear in their head. As the Hebden Bridge actor and Dead Ringers impersonator, Thomas Nelstrop picked up, there's still a trace of George Harrison in my accent.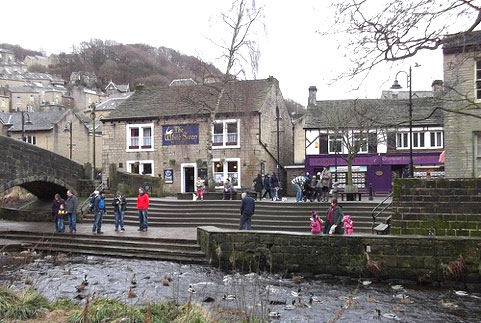 Catch 22
Liz at the White Swan has been poorly. She invites in waifs and strays, the homeless and the ostracised and marginal groups - such as ukulele jammers - and they usually rub along nicely with the regular punters. Jude asked a homeless man why he doesn't get benefits. He said he applied once, but they told him, 'You can't get benefits when you haven't got a home.'
*Hippy Valley book launch, Wednesday 27th, free entry from 7, at The Bookcase, on Market Street.
---
If you would like to send a message about this piece or suggest ideas, email George Murphy
---
Previously