Update: See Photos from Parade

The biggest and best Handmade Parade yet
2pm on Saturday, June 26
— the first day of the Hebden Bridge Arts Festival
HUNDREDS of people will be taking part in what organisers hope will be the biggest and best-ever Hebden Bridge Handmade Parade on Saturday (June 26).
More than 2,000 are expected to line the route to watch a stunning array of giant puppets, animated sculptures, colourful costumes and spectacular parade art.
The Handmade Parade Samba Band will be one of several musical ensembles getting those dancing feet moving to the rhythm at what promises to be a creative and colourful community event for the whole family.
For the first time, the parade will also be kicking off the Hebden Bridge Arts Festival and organisers of both events hope to draw thousands of visitors to the town.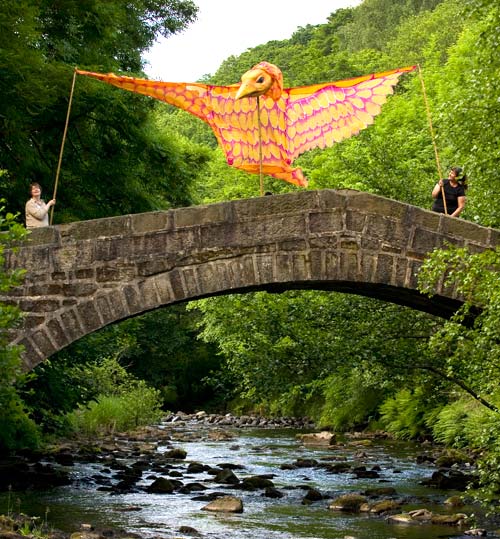 Andrew Kim, artistic director of the parade, said: "With five street bands, a fantastic new stilt troupe, countless giant puppets and record attendance at the open workshops, this will be the biggest parade yet! Be sure not to miss the large-scale finale performance and live music at the park from 3pm to 5pm featuring nearly 100 performers. Wear bright colours and be prepared to dance."
The theme of the parade, which is created by the community with the help of professional artists and celebrates the creativity, variety and uniqueness of the area, is Hop, Skip and a Jump — a celebration of journeys real and imaginary.
Children, teenagers and adults have been busy putting the finishing touches to their costumes at the open workshops in Victoria Road, Hebden Bridge.
Horses are champing at the bit, Canada geese are ready to take flight, cartoon cars are gearing up, penguins are waddling and aliens are climbing aboard their spaceships. Some amazing giant puppets will also be on display, including a squid and a huge pair of feet.
Starting at 2pm, the parade begins at Victoria Road and winds its way through Hebden Bridge via Valley Road and Bridge Gate to Calder Holmes Park where a spectacular finale featuring giant puppets and costumed performers will take place.
There will also be a picnic with refreshment stalls from local vendors in the park until the close at 5pm. Organisers are encouraging those taking part or watching to walk or use public transport.
If anyone hasn't yet made a costume but would like to take part in the parade, the last open workshops are being held this evening (June 24) from 4pm to 6pm and 7pm to 9pm. Those taking part in the parade are asked to assemble at the workshops at 1pm on the 26th.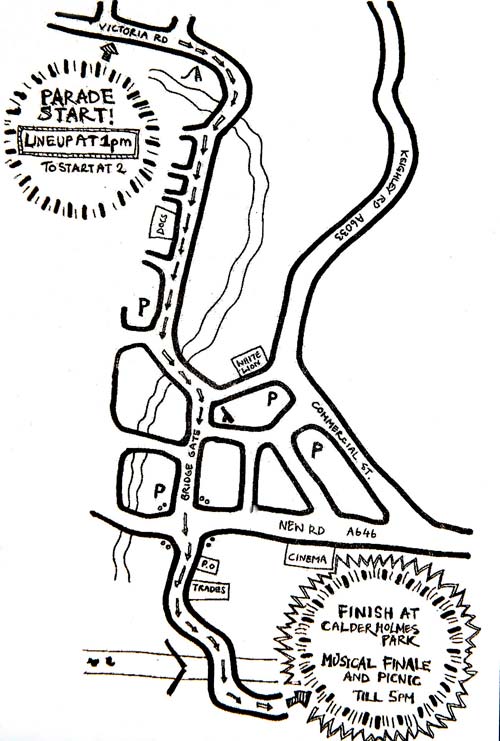 For more information on how to get involved please go to www.hebdenbridgeparade.org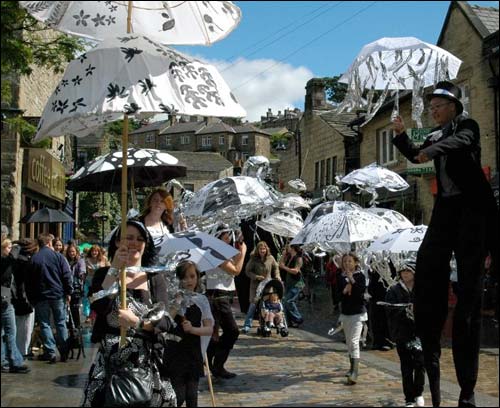 See also:
Hebweb News: Giant feet, tiny cars and a menagerie of migrating animals start to take shape (14 June 2010)
HebWeb News: Handmade Parade Classes and workshops (1 June 2010)
HebWeb News: Grant success for the Handmade Parade (May 2010)
HebWeb News: Hop, Skip and a Jump into the Handmade Parade (April 2010)
HebWeb photos: Handmade Parade 2009
HebWeb photos: Handmade Parade 2008