Hundreds take part in Handmade Parade and thousands turn out to watch
Monday, 28 June 2010
The biggest and best ever Hebden Bridge Handmade Parade broke all records on Saturday as the town was gripped with carnival fever.
More than 600 people took part in the parade and thousands more lined the route in sizzling sunshine to enjoy amazing giant puppets, dazzling artwork, a riot of colour and toe-tapping music.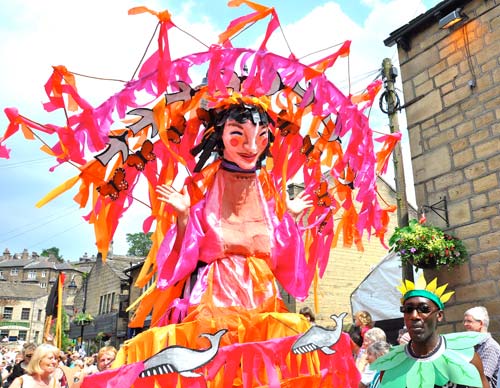 The theme of this year's parade was Hop, Skip and a Jump — a celebration of journeys real and imaginary. Canada geese were stilt-walking at the head of the parade, horses were galloping along the route, cartoon cars whizzing around, penguins travelling on scooters and aliens flying their spaceships.
Some amazing giant puppets wowed the crowds, including an enormous squid created by lead artist Kerith Ogden, a hippopotamus created by Andrew Kim and Kathy Bradley of Thingumajig Theatre, a lollipop lady and a huge pair of feet.
The parade is put together by local people, with the help of professional artists — and it celebrates the creativity, variety and uniqueness of the area.
Those taking part in the parade had created their costumes and parade art at the community workshops held in the three weeks leading up to the parade or at outreach workshops. They were joined by five different bands including Hebden Bridge's own Handmade Samba Brigade.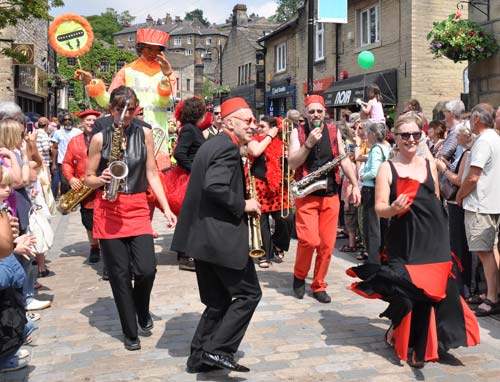 Hebden Royd Mayor Coun Robin Dixon was among those taking part and thoroughly enjoyed riding his noble steed from the Victoria Road workshops, along Valley Road, through a packed St George's Square and along Bridge Gate.
The parade culminated in a finale performance in Calder Holmes Park which involved the stilt-walking Canada geese, various animals, a traffic jam of cars and three giant birds flying in through the crowds.
A not-for-profit company was set up to produce this year's parade and the new organisers are keen to develop it still further over the coming years and to establish it, not only as a major event in Hebden Bridge but as a top attraction for people across the whole of Yorkshire.
The organisers wish to thank all those who took part, volunteered and came to watch and to thank their funders The Big Lottery Fund, The Arts Council, Grassroots Calderdale, Calderdale's Small Grants Scheme and the Co-operative Bank, for their support.
See HebWeb Photo Gallery of Photos from the Parade
Photos and a video of the parade will shortly be up on the Hebden Bridge Parade website
See also:
HebWeb News: The biggest and best Handmade Parade yet (22 June 2010)
HebWeb News: Giant feet, tiny cars and a menagerie of migrating animals start to take shape (14 June 2010)
HebWeb News: Handmade Parade Classes and workshops (1 June 2010)
HebWeb News: Grant success for the Handmade Parade (May 2010)
HebWeb News: Hop, Skip and a Jump into the Handmade Parade (April 2010)
HebWeb photos: Handmade Parade 2009
HebWeb photos: Handmade Parade 2008