TOWN HALL DEVELOPMENT GETS GO AHEAD
Friday, 17 December 2010
Plans for major new facilities in Hebden Bridge's Town Hall have been given the green light. Building work is expected to commence in April 2011.

The development, which will give the town new community and enterprise facilities, was granted planning permission in October. Much of the funding needed is being provided by the Communitybuilders fund, administered by Social Enterprise Business.

"We're absolutely thrilled to be able at last to press the button for go," says Peter Hirst, chair of Hebden Bridge Community Association. "This is the culmination of months and months of detailed planning work and fund-raising. The new buildings, together with the newly created riverside courtyard, will we believe give the town fantastic new facilities for very many years to come."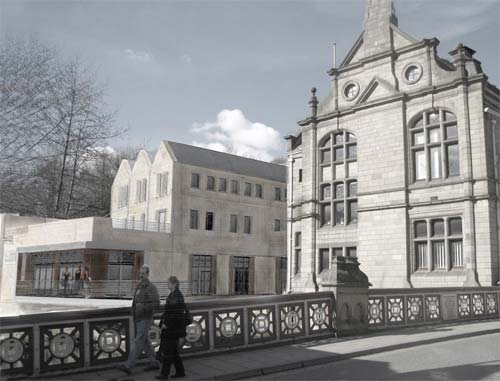 The overall shape and appearance of the new buildings was the subject of several public consultation days earlier in the year and went through the planning process from July to October. Detailed work now on the interior finish ? such things as the flooring and lighting ? is now being undertaken by the Community Association's architects. Under the project timescale drawn up by the architects, initial site investigation work will begin shortly, with the building tender issued in February.

"By this time next year the building should be close to completion," Peter Hirst says. "We are aiming to have everything in place for a grand opening in the Spring of 2012."

The Community Association will be posting regular updates during the construction phase on its website, and in a new initiative will also begin a Twitter feed in the New Year. 'Hard hat' tours of the building during the building period will also be arranged, subject to safety precautions.

The development includes a riverside hall, a new club room for the local light opera and youth theatre groups, meeting rooms and enterprise units. The plans also include a new public open space beside the river Hebden.

"This is the moment when the proposals we have been working on for so long begin to be translated into reality," Peter Hirst adds.

Full details of the development
Previously
Calderdale planners give green light to Town Hall plans
Calderdale Council give 125 year lease for Town Hall (26 October 2010)
Town Hall Development Plans go to Calderdale (16 July 2010)
Community-run Town Hall to honour co-operative pioneer (June 2010)
Public consultation on Town Hall plans (May 2010)
Hebden Bridge Town Hall passes into Community Ownership (March 2010)
Association seeks Treasurer to take on Town Hall role (2 March 2010)
Invitation to see plans for Town Hall (Feb 2010)
Weddings and civil partnerships at Town Hall (Jan 2010)
Town Hall Future Secure (Dec 2009)
Open Doors at Town Hall attracts hundreds
One of England's smallest parishes makes big contribution towards plans for Hebden Bridge's Town Hall
Two major grants boost Town Hall Project
Town Hall Group seeks 'Friends' (April 2009)
Hebden Bridge Town Hall project: Transfer of Town Hall to community ownership one step closer (March 2009)
HebWeb News: New Charity created to manage Town Hall (Jan 2009)
HebWeb News: Government gives thumbs up to Hebden Bridge Town Hall plans (July 2008)
HebWeb News: Plans to put Town Hall once again at the heart of local life (October 2007)