HELEN OF FOUR GATES
- SHOWING AGAIN ON THURSDAY 27TH JAN
Thursday, 20 January 2011
The HebWeb reveals some of the story of how this classic silent film was tracked down to once again enthrall audiences at the Hebden Bridge Picture House.
Nick Wilding recently came to the office of the Hebden Bridge Web and told us the fascinating story of how Helen of Four Gates came to be tracked down, the negotiations and money involved in obtaining the copy which wasfinally to be shown at the Hebden bridge Picture House.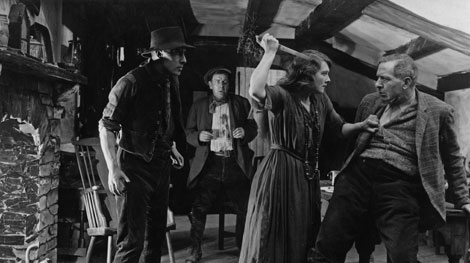 Nick first became aware of the film of Ethel Carnie's bestseller when reading a reprint of the book on Hardcastle Crags published in the early 20th Century where there is a mention of the film of Helen of Four Gates.
In the course of working on Bridge Magazine in the 1990s, when the Internet was in its infancy, Nick put out a message, asking if there was anyone who knew where there was a copy of Helen of Four Gates, the film.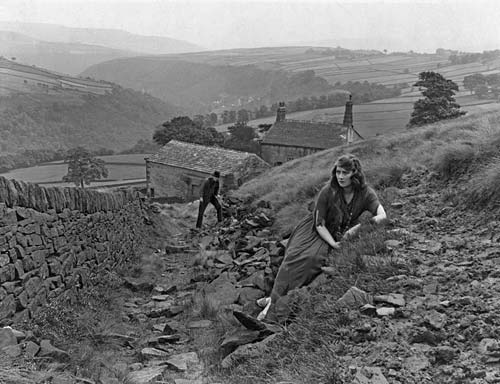 "No-one we spoke or communicated with knew of the existence of a copy of the film. I didn't know at this stage the significance of the film or of the person who made it," Nick told the HebWeb.
"As soon as I started looking, I suddenly had friends all over the world. This was the early days of the Internet. Within a little while I had the brochure of Helen of Four Gates from when the film first came out. When you went to the cinema back then, you were given a brochure which told the story."
Chris Lynch in Japan contacted Nick soon after he knew what Nick was doing. It was Chris Lynch who originally discovered that a copy of the film existed in the Cinémathèque Québécoise in Canada, and it was him who put that information on to the Internet. Without that information, it would have been hard to make any progress. Eventually of course the Cinémathèque Québécoise archive would have probably gone on the Internet anyway. So it was Chris Lynch putting the information on the Internet that led Nick to know of its existence. Soon afterwards Nick learned that there were actually two copies of the film, but only one good one, the one in the archive of the Cinémathèque Québécoise at Montreal.
"My friend Dorothy Sutcliffe, who lives in Blackshaw Head, has a friend, Catherine, who used to live in Blackshaw Head and who went to Canada. Her daughter had a friend who was bi-lingual and who lived in Montreal. This friend went to the CinemaTech Quebecois and kept bothering them. They had it stuck away in their archive. They were not going to give access to just anyone."
Some of the emails were rather snooty along the lines of "We don't deal with people like you". Nick conceded that for them it might be the equivalent of the Louvre lending out a Picasso.
Copyright belonged to British cinema pioneer Cecil Hepworth's daughter, Valerie Williamson. The people at Montreal were saying, among other things, we can't pass this to you because we don't know who has copyright. In the meantime, Nick had been in touch with Valerie Williamson.
Finding out what was the correct procedure for obtaining permissions was a minefield. Nick found himself in contact with someone who had a friend who knew Valerie Williamson, Cecil Hepworth's daughter. Sadly, she died before Nick was able to first show the film, but she did give her permission. With Nick not knowing that she was ill, she wrote a letter saying, this is wonderful because even if I m never able to see the film, I shall always feel that I've seen the film. She was so helpful.
"Without Valerie Williamson, I could not have done it."
Who has the copyright now? I am guessing it will be the British Film Archive.
The Cinémathèque Québécoise eventually contacted Nick again (in October 2008), and said to ignore everything which had gone before and that Nick should contact the British Film Institute (BFI).
Chris Lynch came to London in March 2009. He and Nick met up and went together to see Bryony Dixon at the BFI. Just that morning the Cinémathèque Québécoise had contacted the BFI and said OK but someone would have to pay for creating a copy.
Why did the Cinémathèque Québécoise have the film? When UK film-makers made films in the 1920s they would always send one to America. A lot of them were never shown, but they were kept. While we were busy destroying our old films, even then in the America they had the good sense to archive the films. So the one that got sent to America got saved.
There are people who give their lives to tracking down old films and making sure they don't get destroyed. Kevin Brownlow just devoted his entire life to trying to find old films. Someone like that, maybe a Canadian, took it to Canadia. Or maybe a copy was actually sent to Canada as well.
What kind of copy is shown at the Picture House? A straight 35 mm copy of the original. "Each time we play it publicly we have to go back to the BFI. At the moment, they are not going to charge me. It's like putting on a live show, with the pianist and everything."
"I choose a grand piano because it is beautiful image and you want the most perfect sound. Hiring a grand piano costs the earth so I use my own grand piano. It's cheaper to have a piano remover come to my house than it is to hire one. My grand got passed down to me and was in a terrible state when I inherited it, full of water from a flood. They tell me that I shouldn't keep on moving it about like this."
At this point we talk about lifting pianos and Nick reveals that he was one of seven doing the lifting, each feeling that no-one else was lifting. "It comes through my french windows. When you get there it's got to be retuned."
Because you see Hebden Bridge Picture House having archive films on, you think that any film that you get will be playable on their 1940s projector. But the 1940s projectors will only run at 24 frames per second (fps). Helen of Four Gates was actually made for the ideal speed of 18 fps. If it had been played at 24 fps everything would have moved very fast. But this is a serious, silent, beautiful film. Graham the projectionist took the works of the projector - he lives in Haworth near the Worth Valley Railway - and collared one of the railway engineers at a place where he goes for his coffee. Off they went to the Engineering Department of the Worth Valley Railway. And they actually recreated the part for this 1940s projector to make it play. They couldn't get it to 18 fps but they got it to 20 fps.
Nick thought he was going to lose money because of less than full attendance at some of his previous film sessions. But partly because of the publicity on the Hebweb and the news section of the Guardian, it was an overwhelming success. Queues down to the traffic lights. It more than covered costs. The cinema are now asking for a larger share. But they won't share the risk. Nick has to cover all the loss.
At the meeting in London with the BFI, the BFI explained that they were perfectly happy to help. But the BFI doesn't have any money. So Nick had to raise the money. Nick had film of Fred Dibnah and did aFred Dibnah evening with Sheila Dibnah. That evening together with Hebden Royd at the Movies more or less paid the costs - in the region of a couple of thousand.
Cecil Hepworth was well placed to experiment with the new medium of moving pictures. His father had been involved in lantern slide shows. The first stage towards moving pictures was a development from the lantern shows. Previously, everything happened within the frame; theatre happened within the frame. To begin with, it was about what you put in the frame. "He really does beautifully capture where we are, our area, moving water, in black and white. You certainly get a feeling of what it was like to live in a farm house at that time, what the furniture was like, what the people wore and the way they talked. How many other films are there in existence with Yorkshire dialect captions?"
The novel is quite a difficult read because it is in dialect.
Ethel Carnie (pictured right) wrote the book during WW1 and sold ribbons on the streets of Blackburn to fund her writing of Helen of Four Gates. Not so dissimilar to what poets and writers around Hebden Bridge still do. The book was a phenomenal success. A fifth edition by 1920. It was that success which enabled Ethel Carnie to come and purchase Longtail Cottage in Colden. She and her husband were against the first world war and were involved in anti-conscription activities. He went off to war and she was told a year later that he had died - but some time later he returns! Her best book was based on her working as a half timer in the mills. It was very popular in Russia because it showed conditions in capitalist Britain. Nick has a Russian copy which he describes as very 1920s with Eisenstein type images.
See also
Guardian — After global search for last remaining negative, Cecil Hepworth's 1921 classic to be shown in Yorkshire town where it premiered.
HebWeb News - Helen of Four Gates, May 2010
HebWeb News - Helen of Four Gates, November 2010