Pace Egg 2011
Update: Sunday, 24 April 2011
From the collections the following donations are being made:
Hebden Bridge Arts festival, £400.00
The Red Cross Red Crescent appeal for North Africa, £400.00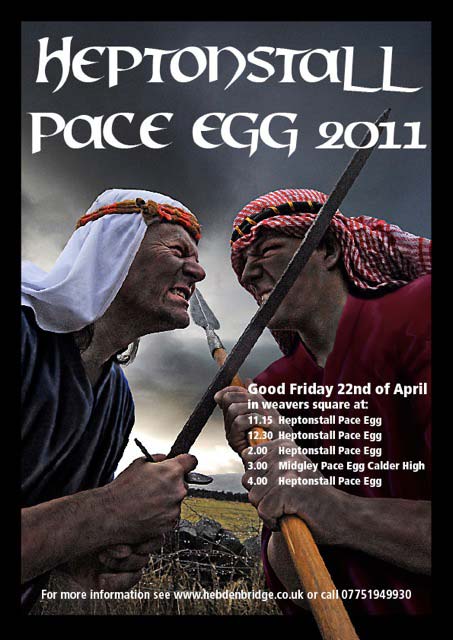 Trouble Brewing Yet Again on Heptonstall's Cobbles
Readers who happened to be in Heptonstall last Good Friday may remember a slight fracas in Weavers' Square as a family feud spilled over into the land of Pace Egg. Andy Carter, sometime Black Prince Of Paradise in the Heptonstall Pace Egg Play arguably met his nemesis in the form of his son Rowan Carter, Calder High Pace Egg's Black Prince Of Paradine. Andy and Rowan both maintained that they were each the best Black Prince ever. The argument that day remained unsettled, as each slew the other in their own play.
From information received, this reporter can now reveal that Rowan has not only thrown the gauntlet down to his dear old Dad once again, he's jumped up and down on it, and growled like a highly irritated gerbil. A final clash twixt the two is set for Good Friday afternoon.
We spoke to Rowan "Well it's like this. I won't be taking part next year, so this is the last chance I've got to really clobber him", to which Andy retorted, "That's enough of that my lad, any more and I'll stop your driving lessons". Your reporter could see things were about to kick off so he high tailed it out of there, and plans to return on the 22nd April to see the outcome.
Although the Heptonstall and Calder High versions of the Pace Egg Play are different variants, both follow the exploits of St. George vanquishing his enemies amidst much slashing, bashing and general mayhem. It is not giving away much of the plot to say that the Prince Of Paradise (Heptonstall) and the Prince Of Paradine (Calder High) will both be falling foul of the knight, as well as possibly each other.
That's if the Midgley Prince Of Paradine makes it to Heptonstall ? With the Midgley players grueling timetable of ten performances over the day! Including their new venue at Colden. There is little margin for delay if they are to make it to Heptonstall for their final performance at 3pm!
The Hill Millies Women's Morris Dancers from the Hebden Bridge will be dancing traditional Cotswold Morris between performances to keep you
entertained, they may even let you join in and teach you a few steps.
With nearly half our casts of characters being North African / Arabian we have decided that our international charity this year will be The Red Cross Red Crescent appeal to help the refuges, injured and suffering of Tunisia and Libya.
Our local charity this year is the Hebden Bridge Arts Festival, who are struggling for funding in the current economic climate.
Performance times are as follows in Weaver's Square:
11.15 am Heptonstall Pace Egg
12.30 pm Heptonstall Pace Egg
2.00 pm Heptonstall Pace Egg
3.00pm Midgley Pace Egg (Calder High Players)
4.00pm Heptonstall Pace Egg
We urge all visitors to use public transport or enjoy the walk up to the village. If you come by car please use Heptonstall Social and Bowling Club Car Park at Acre Lane. Follow the Pace Egg Parking direction signs.
The cast are:
Compere Juggler Neal Colins
St George Ray Riches
Bold Slasher Jimmy Green
The Doctor David Burnop
Black Prince Andy Carter
King of Egypt Sydney Roper
Hector Stuart Hought
Toss Pot Dean Gash
We reserve the right to change or amend any of the above details without prior warning
History:
Originally and traditional adults play this ancient rebirth ceremony had the purpose of celebrating a prosperous season of the rising or growing sun, the season of new birth, "Feast of New Life" in the spring. Linked to the ancient celebration of Eostre the goddess of the earth and fertility and her name being derived from the ancient word for Spring "eastre".
More on this can be found at:
By celebrating that St. George overcomes all his challengers, as he must to prevails, just as the sun must rise in the morning as in earlier religious belief.
It is thought to celebrate the continuum of the seasons and hope for a good harvest. Similar mumming plays are performed around the country often by morris dancing groups.
The Pace Egg Play is perhaps the world's oldest drama and can be traced back through English and European Mummers' plays to ancient Egypt and
Syria. It is a mixture of a pagan rebirth ceremony with the later influences of Christianity and the Crusades. Our performance is a traditional Pennine
variant of the play performed at Easter time, which differ from most of the country were they are usually performed around the new year.
The text of the Pace Egg has been passed down orally over the centuries. Over time in the Calder Valley area it had watered down to a later tradition of being performed by the village boys for coppers or eggs at Easter time so as to enable them to afford to go to the fair.
Thanks again to David Burnop for the poster