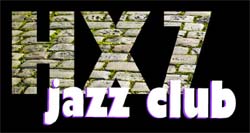 The Asaf Sirkis Trio
Hebden Bridge's HX7 Jazz Club embarks on its third year with a welcome return for one of the first bands to appear there. The Asaf Sirkis Trio performed material from their (then) new CD back in February 2010 and this time they'll be playing a selection of numbers from their superb latest album 'Letting Go', as well as airing some tunes destined for their even newer album which is currently in preparation.
Band leader and drummer Asaf Sirkis' playing and compositions reflect Middle Eastern and North African influences, as well as the 70s fusion style of John McLaughlin's Mahavishnu Orchestra. "Devastatingly creative" wrote John Fordham of him in a 2008 Guardian review; adding later that "Asaf Sirkis sounding creatively freer and more dramatically inventive than ever on drums." Israeli-born but now living in London, Asaf Sirkis is much in demand - performing and recording with Gilad Atzmon and the Orient House Ensemble, Inner Noise, the John Law Trio and many other musicians.

The Trio also features the extraordinary playing of guitarist Tassos Spiliotopoulos, and the constantly inventive Yaron Stavi on bass. Originally from Greece, Spiliotopoulos has lived in London since 2000 working with the likes of Kenny Wheeler, Tim Garland, John Parricelli, Mike Outram and John Etheridge.
Yaron Stavi plays double and electric bass in various styles including, rock, classical and world music as well as jazz. He is a member of Gilad Atzmon's band The Orient House Ensemble which regularly tours Europe, and has performed with Nigel Kennedy Larry Coryell, Peter King, Gary Husband and John Etheridge amongst many others.
"Some bands are so good they just have to be asked back", said HX7 organiser Dave Nelson. "And of course 2012 will continue to see that regular varied mix of new, different and exciting music that we have been programming since the outset. I hope people will continue to support us by coming to concerts as much throughout this year as they have in 2011."
HX7 Jazz is on Thursday 26th January at the Trades Club in Holme Street, Hebden Bridge. Doors open at 7.30pm with live music starting at 8pm, and the headline band starting at 8.30. As an added bonus the venue provides excellent value Himalayan food from early evening. Phone the Trades Club on 845265 to book a meal, or to ring to book advance tickets which are £12 and £9 for concessions and members.
Information about future HX7 Jazz gigs can be found at www.hx7jazz.com, where you can also sign up to be kept informed of developments as they happen.