Friday, 27 January 2012
ArtsMill Exhibition: Michele Howarth Rashman ʻHe Calls Himself Margaret'
1st February - 26th February 2012
Private View: Sunday 29th January 2012, 2-4pm
He Calls Himself Margaret, Michele Howarth Rashman's solo exhibition of mixed media sculpture and ʻpsychiatric' knitwear at the Artsmill, Hebden Bridge.
Following on from a highly successful premiere at the Outside World Gallery in London's East End, Michele Howarth Rashman brings her solo exhibition of meticulously hand stitched mixed media sculpture back home to the North.
" ʻThere's one in the village, he calls himself Margaret' was something I once overheard being said between two women in a post office and it had been rattling around my head ever since. It got me thinking about what we call ourselves and how we see ourselves as opposed to how other people might be perceiving us..." Michele Howarth Rashman
In the exhibition, which premiered in London's fashionable Shoreditch in November, six larger than life-sized sculptures feature alongside several framed up and much loved jumpers adorned with darkly humorous slogans. Each hand worked, micro stitched, mixed media sculpture is built up layer upon layer, using a unique and compelling process Rashman has developed and refined over many years.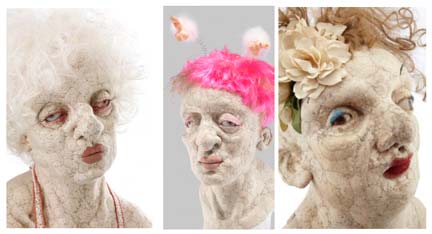 "This painstakingly meticulous process is a defiantly unmanly method of working in a persistently macho art world". Michele Howarth Rashman
Each piece, a one off, takes months to complete, is impossible to duplicate or entrust to assistants, so inevitably has a rarity refreshingly at odds with much current artistic practice.
ʻAn antidote for the numbness of high production-value glitziness.' Artlyst
Spending such long periods of time engrossed in this detailed work, it is inevitable that a profound rapport is made with the subject that is individual to each piece. As a consequence despite the sometimes comical aspects of the completed sculpture, it is always the artist's intent that her approach is not perceived as mocking but empathetic and humane.
"Each piece has an internal life, a back story if you like, that taps into a world of people, usually women, who don't quite get it right. Bad hair, bad wigs and bad posture. Saggy breasted and sad eyed... These are the romantically deceived and disappointed, the washed up and invisible. And yet somewhere in their making an effort, in those acts of self improvement - the padded bra, the surgical enhancement, the flower in the hair - there is a poignancy and nobility that I hope touches the viewer." Michele Howarth Rashman
Following a Fine Art degree at Leeds, Michele Howarth Rashman first exhibited with Grayson Perry in Young Contemporaries at the ICA in 1982. On leaving college Michele continued to evolve a method of work which has been developed and refined over many years. During the late ʻ80s and early ʻ90s, Rashman turned her art to television and animation, co-creating ʻOh Julie' an animated short that won joint first prize in the World Animation Festival in Zagreb - an award shared with Wallace and Gromit. Though this art form was one Rashman has not returned to since, the compulsion to explore figurative art never waned. Her commitment to the miniscule stitching process - through the weeks and months each piece takes - has only exploded over the years and has culminated in a method of working that is entirely unique.
While throughout the ʻ90s, Michele Howarth Rashman continued her artistic practice but chose to exhibit her work just once, when the counter culture artist, poet and actor Jeff Nuttall nominated Rashman to exhibit alongside his own work in the New Centurions exhibition at Centre Point, London. A show conceived so that established artists could each select and exhibit beside one emerging talent. During this period, Rashman was kept afloat by the encouragement and patronage of The Who's John Entwistle, who collected much of the work Rashman produced throughout this time.
Following another reclusive retreat away from exhibiting, Rashman was commissioned by artist and writer Harland Miller to create a sculpture for an Edgar Allen Poe themed exhibition he was curating at the ICA. Though this exhibition did not take place at the time, it eventually materialised in 2008 when Rashman's work ʻHonk if You're a Goth' was shown as part of the highly acclaimed exhibition ʻYou Dig the Tunnel and I'll Hide the Soil' at the White Cube Gallery, London, alongside artists including Tracey Emin, Damien Hirst, Anselm Keifer, Jake & Dinos Chapman, Cindy Sherman, Marcus Harvey and Angus Fairhurst.
High up on the Yorkshire Moors, ʻthis incendiary enigma' (Culture24) lives entirely apart from the Hoxton scene - the milieu in which she last exhibited her work alongside some of the most celebrated Brit Art names of our day. He Calls Himself Margaret will be a rare opportunity for the public to experience the work of this underexposed and reclusive artist.
Psychiatric Knitwear
The original ʻpsychiatric' jumper sported the slogan ʻAT RISK' and was knitted for her then partner and now husband - former Simply Red and Happy Mondays manager Elliot Rashman - who, suffering from a life-threatening depression, found himself stigmatised and under attack. The unapologetic message was confrontational and empowering.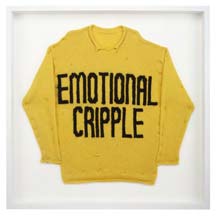 "You think I'm mad I'll give you mad. Show some humanity or f**k off." Michele Howarth Rashman
Rashman's knitwear series, part of her upcoming show at the Artsmill, will include ʻAT RISK' alongside other jumpers inspired by things said about or to her husband, featuring slogans such as ʻEMOTIONAL CRIPPLE' and ʻJUST AN OLD HIPPY'.
Displayed behind glass on the walls of the gallery, each jumper takes on the appearance of a souvenir, much like a signed football shirt to a fan. Alongside the six sculptures this jumper collection therefore serves to question self perception and self worth - and the discrepancy between that and the perception from the outside world. Michele Howarth Rashman blogs for the Huffington Post.