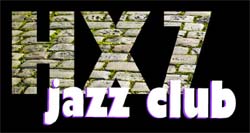 Rod Mason with Elements
Now into its third year of providing the town with the very best of regional, national and international performers, Hebden Bridge's very own HX7 Jazz club welcomes back the band that played at its opening night at the beginning of 2010. Returning on February 23rd, Huddersfield-based saxophonist Rod Mason and his band Elements are all set for another barnstorming tour-de-force comparable only to their stunning gig at the club two years ago.
One of the most popular bands on the northern jazz scene with its powerful and uncompromising material, Elements' compelling array of music is described as Fusion Jazz, and it certainly covers just about the entire spectrum of contemporary jazz, delivered with great energy, commitment and impeccable musicianship.
Band leader and composer Rod (The Roomdarkener) Mason is a vibrant and compelling performer who has appeared alongside many of the UK's best known stars including Alan Skidmore, Pete King, Don Weller, Art Themen, Guy Barker, Gerard Presencer, Steve Waterman, Jim Mullen and Mark Nightingale. He has toured in Europe and featured at many of this country's top festivals.
On electric and acoustic bass, Richard Hammond is fast becoming one of the top players in the country, working with the likes of Stuart McCallum, Iain Dixon, Steve Lodder and Tina May and performing at most of the UK's jazz clubs and festivals.
Dave Walsh is one of the UK's most sought-after drummers providing the fire and energy behind such acclaimed and internationally renowned musicians as Stan Sulzmann, Don Weller, Alan Barnes, Dave O'Higgins and Mike Walker in a variety of ensembles ranging from small jazz groups through to big bands and drum'n bass.
Pianist and keyboard player Richard Wetherall has become one of the most in-demand musicians around, regularly accompanying visiting U.S. and European musicians. Amongst others, he is currently working with the Richard Iles Band, Oscar Bernhardt Ensemble, and the vocalist Rosie Brown.
"In every way, Rod's a larger-than-life character and that really shows in his music and in his presence on stage", said HX7 promoter Dave Nelson.
"He and the band will undoubtedly make it another entertaining, memorable night of great tunes and top class playing."
HX7 Jazz is at the Trades Club in Holme Street, Hebden Bridge. Doors open at 7.30pm with live music starting at 8pm, and the headline band starting at 8.30. As an added bonus the venue provides excellent value Himalayan food from early evening. Phone the Trades Club on 845265 to book a meal, or to ring to book advance tickets which are £10 and £7 for concessions and members.
Information about future HX7 Jazz gigs can be found at www.hx7jazz.com, where you can also sign up to be kept informed of developments as they happen.