Handmade Parade to go ahead on 23 June
It's all systems go for this year's Hebden Bridge Handmade Parade thanks to eleventh hour grant successes.
The future of the parade, one of the biggest events in the area's calendar, had been in doubt after drastic cuts to arts funding left it way short of the amount needed.
But a £10,000 cash boost from Calderdale Council and a £7,500 award from Arts Council England – with further funding to come later in the year for other work – have secured the future of this year's parade, which will now go ahead on Saturday, June 23.
Coupled with grants of £3,000 from Hebden Royd Town Council, £300 from the Communities Foundation for Calderdale and awards from the Co-op Bank, Yorkshire and Clydesdale Bank and the Concertina Trust, organisers now have enough to produce the parade and three weeks of open workshops and to offer outreach sessions for vulnerable and disadvantaged people.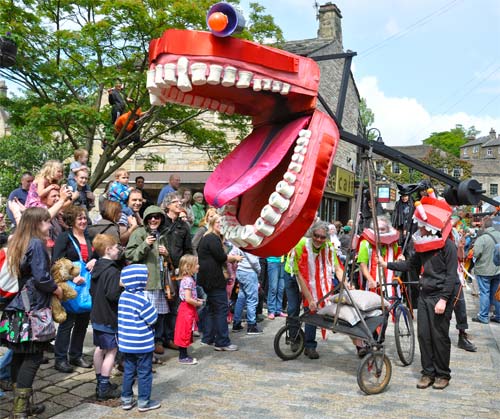 The fun will begin with a Handmade Parade Spark Day on Saturday, March 24 – a day for brainstorming, making suggestions and getting into the parade spirit. The event, which will be held at Holme Street Arts Centre, will include a display of parade art, a giant suggestions board, music, tea and a chat to discuss what people would like to see in this year's parade.
Parade co-ordinator Rebecca Dearden said: "It's been very hard work, but we're delighted to announce that there will be a Hebden Bridge Handmade Parade this year after all. We were really encouraged by the number of messages of support we had – not just from people in the local area, but from throughout the UK and even from the USA and Australia.  It just shows how important this spectacular event has become."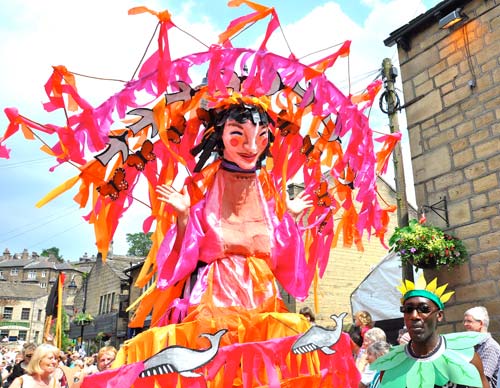 The grants mean the not-for-profit parade organisation can ensure the workshops, procession and finale in the park can build on the success of the previous four years and involve as many people as possible.
The parade, created by the community with the help of local artists, celebrates the creativity, variety and uniqueness of the area. The parade will begin at 2pm on Saturday, June 23 and will wind its way through town to Calder Holmes Park for a spectacular finale.
Workshops will be held from June 2 to 21 and will be open to anyone who wants to get involved in creating parade art, giant puppets or costumes. There will also be special classes for teenagers and adults who want to get stuck into a new skill – from stilt-walking, joining the samba or street brass bands to making giant willow sculptures.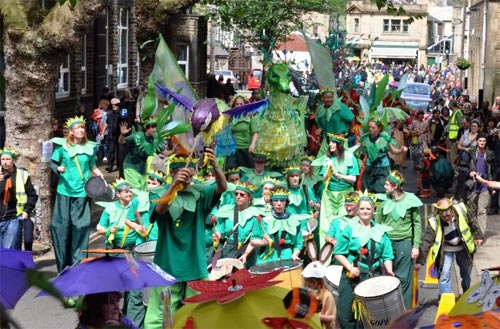 The previous four parades, with the themes of a Deluge of Delights, the Glorious Garden Party, Hop, Skip and a Jump and the Fabulous Feast, were hugely successful. Up to a thousand people took part and thousands more lined the parade route to cheer on the procession of giant puppets and clever animatronics, and to marvel at their friends and neighbours wearing stunning costumes.
The parade is also a chance for people to gain some great experience, giving a few hours or longer as workshop helpers. Organisers are now looking for a lead artist, assistant artists and volunteers and are calling for anyone interested in art, parades or simply in helping others have fun to get in touch.
"People who've volunteered as workshop helpers in previous years have had an amazing time. It's a way of getting more involved in the parade and you don't need any special skills or previous experience." said Rebecca.
More details at www.handmadeparade.co.uk or you can email.