The Heptonstall Players collected £677.60 - The Red Cross Syrian Appeal and the Little Theatre each got £338.80. The Midgley Pace Egg raised £541 this year for Great Generation, Alzheimers Society and Calder Valley Search and Rescue.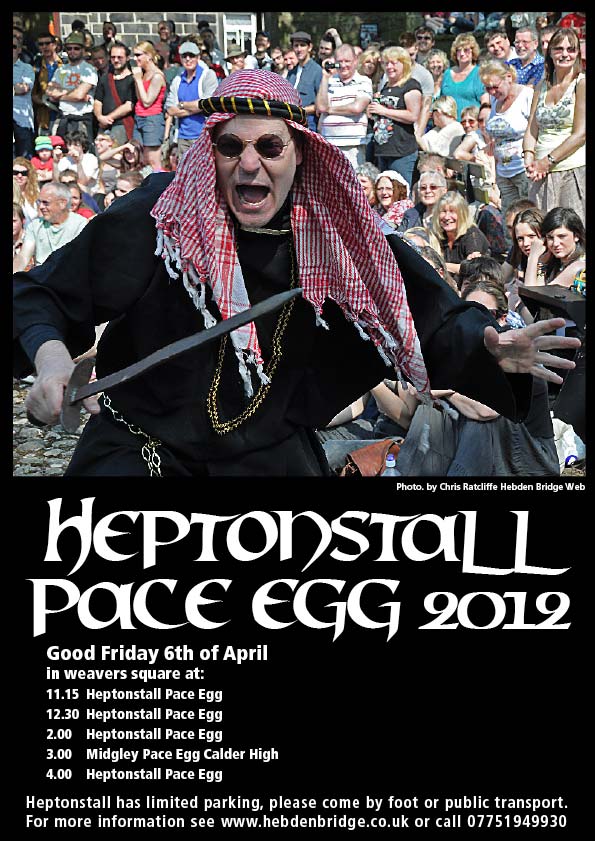 Good Friday, 6th April in Weaver's Square, Heptonstall. See below for details of the Midgley Pace Egg Play
One man. Alone. A hero of our time. Nay, a hero of all time. Famed across the lands as dragon slayer, famed across the lands as sword wielder, famed across the lands as that bloke from the walking videos.
Yet this Good Friday, our hero must undertake a trial. A trial of combat, a trial as old as hills, forsooth, a trial nearly as old as our hero himself. Yay and verily, this Good Friday St. George will climb on foot to the peak of Mount Heptonstall, as will his followers and well wishers (there being insufficient parking for carts and chariots on the Mount). There he will challenge offcumdens, oncumdens, indeed allcumdens to battle - provided they've attended all the rehearsals.
And once Slasher, The Doctor, The Black Prince, The King Of Egypt, Bold Hector and Tosspot have been dispatched, have been argued with, or have merely run away, there will be a great merriment and a great celebration and, in the case of younger followers, a great running around in circles waving wooden swords.
Revellers will also witness a retelling of the story by the Lads Of Calder High, and dance by the fair maids of Hillmilly.
Come one, come all, come Pace Egging in Heptonstall!
This year's charity collection will be for The Red Cross Red Crescent Syria appeal to help the injured and suffering. And our local charity this year is the Hebden Bridge Little Theatre extension building fund.
Performance times are as follows in Weaver's Square:
11.15 am Heptonstall Pace Egg
12.30 pm Heptonstall Pace Egg
2.00 pm Heptonstall Pace Egg
3.00 pm Midgley Pace Egg (Calder High Players)
4.00pm Heptonstall Pace Egg
We urge all visitors to use public transport or enjoy the walk up to the village. If you come by car please use Heptonstall Social and Bowling Club Car Park at Acre Lane. Follow the Pace Egg Parking direction signs.
The cast are:
Compere Juggler Neal Colins
St George Ray Riches
Bold Slasher Jimmy Green
The Doctor David Burnop
Black Prince Andy Carter
King of Egypt Sydney Roper
Hector Stuart Hought
Toss Pot Dean Gash
We reserve the right to change or amend any of the above details without prior warning.
History:
Originally and traditional adults play this ancient rebirth ceremony had the purpose of celebrating a prosperous season of the rising or growing sun, the season of new birth, "Feast of New Life" in the spring. Linked to the ancient celebration of Eostre the goddess of the earth and fertility and her name being derived from the ancient word for Spring "eastre".
More on this can be found at:
Where Did Easter Come From?

Eostre and Easter Customs
By celebrating that St. George overcomes all his challengers, as he must to prevail, just as the sun must rise in the morning as in earlier religious
belief, it is thought, to celebrate the continuum of the seasons and hope for a good harvest. Similar mumming plays are performed around the country often by morris dancing groups.
The Pace Egg Play is perhaps the world's oldest drama and can be traced back through English and European Mummers' plays to ancient Egypt and Syria. It is a mixture of a pagan rebirth ceremony with the later influences of Christianity and the Crusades. Our performance is a traditional Pennine variant of the play performed at Easter time, which differ from most of the country were they are usually performed around the new year.
The text of the Pace Egg has been passed down orally over the centuries. Over time in the Calder Valley area it had watered down to a later tradition of being performed by the village boys for coppers or eggs at Easter time so as to enable them to afford to go to the fair.
Heptonstall Pace Egg was revived in 1979, for a one off performance, as part of a year of events to celebrating the Centenary Year of Heptonstall School. After that performance Kevin McAspurn (who played Bold Slasher) and I decided it was part of village tradition and we should keep it going.
We would like to thank all the many volunteers that have performed, collected and helped out over the years to make the Pace Egg happen. The play has built a enthusiastic following, with many people coming back year after year. Children dress up as the characters and the audience know the lines as well as we do. The whole day has become a sort of coming together, re-uniting old friends and family from the area. Every year and its play are special to us with their own idiosyncrasies. We hope this year is just as unique.
As a 'combat' version - the most popular variant of this type of mummer's play in the Pennines - it promises to be an action-packed spectacle that shouldn't be missed.
As well as the Heptonstall Pace Egg play, there will also be the:
Midgley Pace Egg Play
08.45 - Banksfield
09.30 - Todmorden
10.30 - Mytholmroyd
11.00 - Hebden Bridge (Holme St)
11.30 - Hebden Bridge (Square)
12.15 - New Delight, Blackshaw
13.15 - Hebden Bridge (Marina)
14.00 - Luddenden
14.30 - Midgley
15.00 – Heptonstall
Pace Egging time is approaching once more! Students from Calder High School are dusting off their Pace Egging hats and swords ready to entertain throughout the Upper Calder Valley on Good Friday.
The students will perform the Midgley Pace Egg play. This is an old tradition within Calder High School, and has been performed by the school for many years now. The Pace Egg Play is based on the oldest play in the world, The Mummers Play. Eight characters are involved in the unfolding story of Saint George and his challengers – Bold Slasher, The Black Prince of Paradine and Hector. The Fool, the Doctor and Tosspot all play important parts and add their own touch of humour to the proceedings.
Following tradition, the Pace Egg Actors are all boys and have been carefully chosen for their roles by experienced 'Pace Eggers'. They not only had to show how well they can act but also how passionate they are about continuing a custom which is a part of local tradition. Some of last year's Pace Eggers were invited to London for a Vogue photo shoot following which a picture and article appeared in a Vogue feature about British customs.
There will be 10 performances this year in Mytholmroyd, Todmorden, Hebden Bridge, Luddenden, Midgley, Blackshaw Head and Heptonstall. There will be a collection at each performance with the money collected going to charity.
The boys will no doubt entertain everyone who watches them with their acting, singing, ad-libbing, audience participation and high jinks!
This year's cast will be:
Jack Deighton, The Fool;
James Kay, Bold Slasher;
Daniel Cox, The Doctor;
William Foulds, King of Egypt;
Lamin Touray, Black Prince of Paradine;
Joe Moorhead, Hector;
Tom Jennings, Tosspot;
Sam Harris, Saint George.
Performance running order for Good Friday, 6 April:
8:45 Banksfield Estate
9:30 Todmorden
10:30 Mytholmroyd
11:00 Hebden Bridge (Holme Street)
11:30 Hebden Bridge (St George's Square)
12:15 The New Delight Inn (Colden)
1:15 Hebden Bridge (Marina)
2:00 Luddenden Village
2:30 Midgley
3:00 Heptonstall