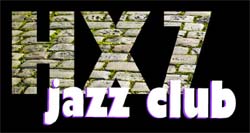 Centre-Line
Hebden Bridge's HX7 Jazz Club hosts the final concert of a busy and highly successful UK tour by high-flying London quartet Centre-Line on Thursday March 29. The band - the product of the long-standing musical partnership between saxophonist Russell van den Berg and drummer Darren Altman - have been promoting their recently released second album 'A Virtual Joyride' and have been visiting the furthest reaches of England and Wales in the process.
Centre-Line have a unique sound and a superb repertoire of original music. Their line-up of electric bass, Sax/EWI (Electric Wind Instrument), electric guitar and drums, gives them a contemporary jazz sound that grooves and constantly surprises. This groove-based approach is coupled with some great melodic writing – elements which open up their music to a wider audience. It's "classy contemporary jazz with a personal stamp" according to a recent review in The Guardian.
The individual band members are all respected musicians on the London and UK Jazz scene. Russell van den Berg is an award winning saxophonist who is as comfortable surrounded by the likes of Kenny Wheeler, as being a featured soloist in UK contemporary big bands and other large ensembles. As well as a highly experienced and respected educator and the Head of Jazz studies at Leeds College of Music, he's also a composer and arranger and has received several commissions and awards.
Guitarist Jez Franks, a highly respected sideman and also leader of his own Quartet, can be heard on many recordings and seen with numerous London-based bands. He has played alongside the likes of Lawrence Cottle, Geoff Gasgoine, Mick Hutton, Dudley Phillips and Julian Arguelles - and his energetic playing, combined with a wealth of electronic soundscapes strongly contribute to Centre-Line's distinctive sound.
Electric bassist Jon Harvey brings to Centre-Line an unfailing sense of groove coupled with impeccable musicianship. He never approaches a piece of music in the same way, always offering a fresh base for other band members to feed off. He is undoubtedly the ideal foil for the eclectic and imaginative Darren Altman - a busy and much sought-after drummer who has worked with some of the top names in the UK jazz world including Clare Teal, Sax Appeal, Anita Wardell, Jim Mullen and the London Jazz Orchestra, and also drummed for the house band at the world-famous Ronnie Scott Club.
"This band have been attracting a lot of attention lately," commented Dave Nelson who runs HX7 Jazz. "and with it being the final night of their tour I think they'll deliver something pretty special next Thursday."
HX7 Jazz is at the Trades Club in Holme Street, Hebden Bridge. Doors open at 7.30pm with live music starting at 8pm, and the headline band starting at 8.30. As an added bonus the venue provides excellent value Himalayan food from early evening. Phone the Trades Club on 845265 to book a meal, or to ring to book advance tickets which are £12 and £9 for concessions and members.
Information about future HX7 Jazz gigs can be found at www.hx7jazz.com, where you can also sign up to be kept informed of developments as they happen.