Makeover at Riverside School
Tuesday, 20 March 2012
Parents, teachers and friends spent last weekend converting the old old PE store into a special nurture room for small groups and meetings, birthday treats and also for any child who needs to talk through issues away from the classroom - in just 48 hours!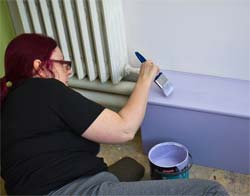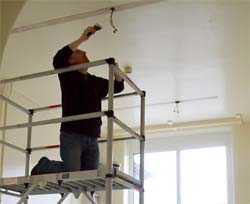 The project is being driven by a group of parents on a shoe string budget. They've been supported by local businesses and professionals (like architects, electricians, joiners, plumbers) who have given their services for free and so this project is involving many members of our community.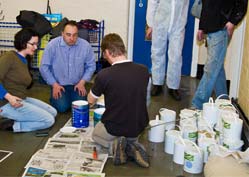 An army of 45 parents signed up to help – clearing the room, plastering, sewing cushions, painting, making cups of tea etc etc.


They worked from 6pm - 10pm on Friday, all day Saturday and again on Sunday 10am – 4pm. In the end, more than 70 people (parents, teachers, friends, skilled tradesmen) were involved between 4pm Friday and 6pm Sunday transforming the old PE storeroom into a light, bright space for the children of Riverside.

This was a real community project with many local businesses working alongside parents and staff to make it happen.
All photos by Craig Shaw of Blu Planet Photography
- see more photos by Craig of the working weekend at Riverside