Grant Success for Village Turbine
Thursday, 5 April 2012
Blackshaw Head based Pennine Community Power has won a grant of £30,000 from Village SOS, part of the Big Lottery Fund. The grant will partly fund a community wind turbine to be erected at Blackshaw Head.
It recently received conditional planning permission from Calderdale Council.
"We are over the moon with this grant," says Ashley Sharp, one of the founding directors of PCP. "For over two years we have worked on a sustainability plan for Blackshaw Parish – to produce more of our local energy and food. The community wind turbine is just one of several projects we are working on. The grant is a huge boost to our work and I would like to thank everyone who has helped making this possible."
Village SOS has offered 62 projects a grant– Pennine Community Power is one of only two in Yorkshire. As part of the grant the BBC will follow some of the villages over a year to show how they are setting up community enterprises. On the previous series the BBC the programme had 3-4 million viewers, so Blackshaw Head could star on national television.
Pennine Community Power is an initiative of Blackshaw Environmental Action Team (BEAT) to develop community-based renewable energy. All profits will be ploughed back into projects to make the community more sustainable. The community enterprise will be democratically controlled and in the next few months residents will be encouraged to invest and participate in the company.
For more information about BEAT and Pennine Community Power e-mail finn.jensen@rocketmail.com.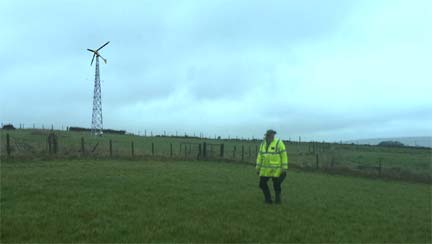 The community wind turbine will be a 10kW Bergey on a 12 metre lattice tower – see picture.