Wainsgate Season of Spring and Summer Concerts starts with Muldoon's Picnic
Saturday, 7 April 2012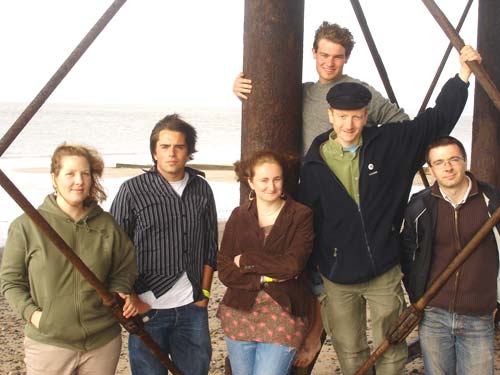 The 2012 series of spring and summer concerts at Wainsgate Chapel kicks off on Sunday April 15th with a visit from Glasgow vocal harmony group Muldoon's Picnic.
The band sing unaccompanied songs from the sublime to the ridiculous, taking in folk-songs, world music, shanties and spirituals - and have even been known to dabble in Victorian parlour music. However, their speciality is in original arrangements of traditional songs from around the world.
From authentic to experimental, everything is presented with a sense of fun - something that speaks volumes about a group that has won hearts and minds all around the UK.
Most of the band play or sing with the Glasgow Madrigirls who performed to a capacity crowd at Wainsgate as part of last year's Arts Festival. They include Madrigirls choral director Katy Cooper and also Daisy Abbott who lived in Todmorden before going to Glasgow University.
In addition to their afternoon performance, Muldoon's Picnic will also be offering a morning workshop in Sacred Harp (shape note) singing, world music and general harmony. The workshop is suitable for all, whatever the level of musical training and experience -if any. The songs, from different a cappella harmony traditions around the world (including a recently published original arrangement by Katy Cooper) will be learned by ear, directed by leaders experienced in working with singers of all levels of ability.
"Muldoon's Picnic have a deserved reputation for really well-put together, complex and spine-chilling harmonies", commented Wainsgate concert organiser Dave Nelson. "And I think that this kind of music works to perfection in the splendid pin-drop acoustic of the Chapel. It's going to be a delightful afternoon."
The concert starts at 3pm and tickets (£8.00 and £6.00 concessions) are available on the door.
The workshop is at 11am and costs £5.00/£4.00 with combined workshop and concert tickets available for £10.00/£8.00.
The next performance at Wainsgate Chapel will be on Sunday May 20th when The Ancient Mariner, a dramatic song cycle inspired by Samuel Taylor Coleridge, will be performed by singer Tim Hardy and pianist/composer Geoff Page.
Wainsgate Chapel is on Wainsgate Lane, Old Town, Hebden Bridge HX7 8SU. Parking there is limited and reserved for disabled drivers. There are plenty of footpaths for those who'd like to walk from Hebden Bridge or there's an hourly bus service to Old Town Mill Lane (opposite Wainsgate Lane) where parking is also available. More information at about the venue and future events can be found at www.wainsgate.co.uk .
"Complicated harmonies, very well put together . . . compelling listening" (Box and Fiddle magazine)
"Spine-tingling harmonies . . . Stunned us with their singing and sense of fun" (Glenfarg Village Folk Club)
"If you haven't come across this wonderful group before, prepare to be amazed" (Four Fools Folk Festival)
"They can come and picnic on my lawn any time they like!"
(Celtic Connections)
Muldoon's Picnic Sunday April 15th at 3pm £8 / £6