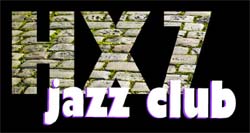 Submotion Orchestra
Described as "Chill-out acid jazz meets dubstep and reggae" the highly acclaimed Submotion Orchestra visit HX7 Jazz Club on Thursday April 26th for what promises to be an extremely memorable night of great music. The club has built a reputation over the past couple of years for exploring the many different facets of jazz-fusion, and Submotion Orchestra's particular blend certainly marks yet another new departure.

Formed in Leeds in 2009, Submotion Orchestra have rapidly built up a reputation as one of the most interesting and original projects emerging from the UK today. Drawing upon dubstep, soul and ambient electronica as well as jazz, their unique music is at once delicate and heavy, spacious and dense, highly atmospheric but firmly rooted. Earth-shaking bass and drums combine with lush keyboard and trumpet textures to create the perfect bed for the fragile beauty of the vocals, and the celestial effects of sound designer Dom 'Ruckspin' Howard.
The Submotions are yet another product of Leeds College of Music, and their musicianship is clear for all to see. Featuring the mesmerising vocals of Huddersfield-born Ruby Wood, the band imparts great energy to the compositions of keyboardist Taz Modi. His tunes - mostly taken from the band's debut album, Finest Hour, are melodic but plangent with Simon 'Bobby' Beddoe's lyrical flugelhorn playing offering a beguiling counterpoint to Woods' soulful vocals and the rhythm section of bassist Chris Hargreaves, percussionist Danny Templeman, and drummer Tommy Evans.
The band stormed the festival circuit in 2010, performing at The Big Chill, Latitude, Outlook and Bestival amongst others. They also headlined at the Marsden Jazz Festival last year, delivering a sell-out performance that met with rave reviews for their unique take on jazz-fusion.
"I'm sure many people will remember Ruby Wood for her many superb gigs at the Trades Club and throughout Calderdale", said HX7 organiser Dave Nelson. "I'm really looking forward to seeing her perform with a major-league outfit like Submotion Orchestra, and think we're probably all quite privileged to be able to go and see them on our doorstep!"
HX7 Jazz is at the Trades Club in Holme Street, Hebden Bridge. Doors open at 7.30pm with live music starting at 8pm, and the headline band starting at 8.30. As an added bonus the venue provides excellent value Himalayan food from early evening. Phone the Trades Club on 845265 to book a meal, or to ring to book advance tickets which are £12 and £9 for concessions and members.
Information about future HX7 Jazz gigs can be found at www.hx7jazz.com, where you can also sign up to be kept informed of developments as they happen.