Concert at Wainsgate: The Ancient Mariner: A dramatic song cycle inspired by Coleridge's poem
Wednesday, 9 May 2012
The highly acclaimed concert series at Wainsgate Chapel continues on Sunday May 20th with a wonderful and brand new dramatic song cycle which is inspired by The Rime of The Ancient Mariner by the poet Samuel Taylor Coleridge, and performed by actor/singer Tim Hardy and pianist Geoff Page.
Coleridge's gripping and compelling story is retold through a sequence of songs and musical scenes that are sung by a solo singer accompanied by piano. A sailor retells his sad story: how he and his crew-mates set sail in good weather, but were soon beset by storm and then ice. In a callous act he shoots an albatross from the sky, but then watches as one by one his crew mates die. But he alone cannot die, for he has been cursed for his crime against nature to be abandoned on the wide, wide sea.
Published in 1798, The Rime is Coleridge's longest work, and may have been inspired by James Cook's second voyage of exploration (1772–1775) of the South Seas and the Pacific Ocean. It is the source of the famous "Water, water, every where, Nor any drop to drink" and several other often-quoted lines.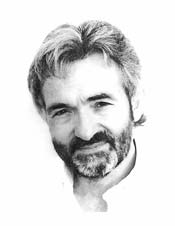 Tim Hardy is also a director and freelance faculty member of RADA with theatre credits including (for the RSC) Henry V and Marat/Sade, Lysistrata at the Old Vic and Mary Barnes at the Royal Court. His opera credits include The Marriage of Figaro, Don Giovanni and The Magic Flute and his many Television appearances include the title role in Galileo for the BBC, and leading roles in Eastenders, Midsomer Murders and Casualty.

The Ancient Mariner was composed by Geoff Page (above) who also has many musical productions to his credit including 'Academy of Death' for Audacious in 2009, 'The Rat Catcher' in 2011, and he is currently writing 'No Sleep for the Haunted' for the Lowry in Salford.
"This is a dazzling interpretation bringing classic poetry to life" commented local playwright Anna Carlisle. "It's an absolute must-see, so just be there!"
The concert starts at 3pm and tickets, which are £8.00/£6.00 and also £2 for under 19s, are available on the door. Further performances at Wainsgate Chapel include a special Jubilee evening concert at on Sunday June 3rd featuring prohibition-era jazz from 52 Skidoo, supported by Lucille (Lucy and the Caterpillar), and on Sunday June 17 a superb double bill of Finnish choral music with Ensemble Norma and Enkelit.
Wainsgate Chapel is on Wainsgate Lane, Old Town, Hebden Bridge HX7 8SU. Parking there is limited and reserved for disabled drivers. There are plenty of footpaths for those who'd like to walk from Hebden Bridge or there's an hourly bus service to Old Town Mill Lane (opposite Wainsgate Lane) where parking is also available. More information at about the venue and future events can be found at www.wainsgate.co.uk.