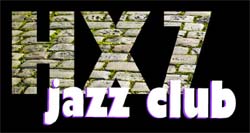 trioVD
HEBDEN BRIDGE'S HX7 JAZZ CLUB continues to build on a well deserved reputation for programming contemporary and cutting-edge jazz and jazz-fusion. It's a reputation which is likely to increase yet more after this month's concert on Thursday May 24th when the multi award-winning trioVD will be busy lifting the roof off the Trades Club.
Inspired by the D.I.Y music scene, trioVD have toured the U.K extensively with their heavy mix of improv, rock, electronica and jazz. Normally consisting of one set, trioVD performances blend written and improvised material in a startling, fresh manner. They specialise in a fast, tight and awesomely expert conjunction of staccato and spiky high-energy compositions, uninhibited sax and guitar improvisation and machine-gun drumming. This is the cutting-edge of contemporary improv-fusion guitar technique, colliding headlong free-jazz phrasing with roaring thrash metal riffs and ghostly electronics.
Chris Bussey's drumming sends frenetic waves of rhythmic energy furiously pulsating through the sonic landscape. Protruding through this musical fabric, guitarist Chris Sharkey's angular chordal shards of sound imbue the muscular melodic expansions of Christophe de Bezenac's alto saxophone with a stinging harmonic intensity.

Passages of free-form avant-rock are brutally but seamlessly contrasted by tight bebop melodic themes propelled by commanding power-anthem rock grooves. Everything glistens with pride, passion and a mercurial sensibility, serving to reinforce the fact that trioVD has achieved a degree of cohesion, synergy, and abandon that few could emulate.
"It's not going to be pretty, but it will be pretty special and extremely exciting", commented HX7 Jazz organiser Dave Nelson. "I think trioVD are spearheading a new kind of live jazz that is breathtaking in its unpredictability and lack of compromise – yet which remains utterly compelling. A night of shock and awe awaits!"
HX7 Jazz is at the Trades Club in Holme Street, Hebden Bridge. Doors open at 7.30pm with live music starting at 8pm, and the headline band on stage soon after 8.30. Phone the Trades Club on 845265 to book advance tickets which are £12 and £9 for concessions and members. For information about future HX7 Jazz events visit www.hx7jazz.com .