Inspiral Carpets first sell out for Arts Festival
Friday, 1 June 2012
It took Manchester legends Inspiral Carpets less than 48 hours to become the first Hebden Bridge Arts Festival event to sell out.
The Inspirals bring their brand of powerpop to the Trades Club on Saturday 7 July and despite a limit of four tickets per person a steady stream of punters made it a record sell out for an arts festival event at the Holme Street venue.
"The Inspirals usually play much bigger venues than this so we were expecting it to be popular but to sell out in less than two days caught us unawares, and our thanks go to the Arts Festival team for supporting us to book such a big name," says ents manager Mal Campbell.
Inspiral Carpets at the Trades
Monday, 28 May 2012
Madchester stalwarts the Inspiral Carpets are the latest chart topping
act to play the Trades Club on Saturday 7 July. Tickets now available.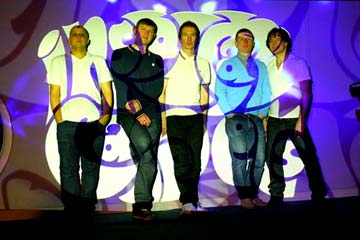 The band led by organ maestro Clint Boon rode the Manchester wave in
the late 1980s along with the Stone Roses and Happy Mondays.
Their powerpop anthems like This Is How It Feels and Joe netted them
13 top forty single plus four UK number one albums.
The band say getting back together with original vocalist Stephen Holt
is 'a reminder more than a reunion.'
They've just completed a sell our arena tour with Happy Mondays, and
have a full summer of guest slots at all the major festivals.
"The Inspirals were always at the pop end of the Madchester movement,
with a decent sense of humour thrown in, and although Clint Boon has
DJed at the club this is the first time the whole band has played at
the Trades," says Trades Ents manager Mal Campbell.

Tickets priced £17 for members and £20 for guests are on sale now
from the club or www.wegottickets.com. Due to demand sales are
limited to 4 per person.