Concert at Wainsgate: Ensemble Norma and Enkelit
Wednesday, 6 June 2012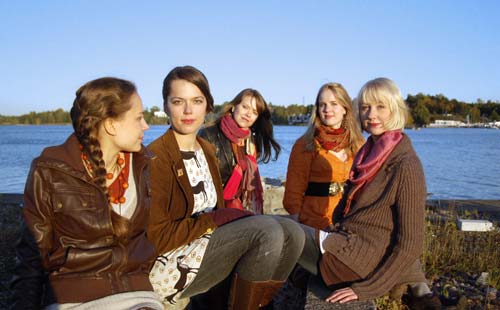 Hard on the heels of its highly successful Jubilee Concert, Wainsgate Chapel presents a stunning double bill of Finnish contemporary choral music on Sunday June 17. York-based choir Enkelit are no strangers to Calderdale having performed locally on several occasions, including a sell-out concert for Hebden Bridge Arts Festival in 2009. Headlining the concert is Ensemble Norma who whilst being virtually unknown in this country, are nonetheless extremely well known and respected in their home country of Finland.
Ensemble Norma consists of five young female singers, who have been together since 2004. Their songs are composed and arranged by members of the group and tell powerful stories of Finland and beyond - and of life itself. Their music, straddles folk, pop and jazz, and is coloured by beautiful harmonies which create a rich and absorbing sonic world. The group has appeared at the Helsinki Music Centre, the Stoa Cultural Centre, Kanneltalo, the Järvenpää Culture House, the Gyllenberg Hall and the Helsinki Pop and Jazz Conservatory. They have also given concerts and master classes at a number of Nordic a cappella festivals, including the VokaLarm event in Norway quite recently.
Enkelit are a small, upper-voice choir formed in 2003 primarily to sing the beautiful a cappella music of Finland. The group take their name from the choral piece which inspired their creation; Enkelit (Finnish for 'angels') by Tellu Turkka. Their repertoire is very contemporary, mostly written in the last twenty years, reflecting the renaissance in Finnish choral music. Although the group primarily perform Finnish work, they also include pieces from Estonia, Iceland and Sweden.
The ensemble has performed at The Lyons Concert Hall, York, The Sage Gateshead and Square Chapel Arts centre in Halifax amongst others. In June 2005 they made a pilgrimage to their spiritual home of Tampere Music Festival in Finland to sing in the Chorus Review. They have also toured the Czech Republic, and also found time to record their first CD.
"The two groups have quite contrasting styles, but both produce beautiful, unforgettable, spine-tingling music," said Wainsgate concert organiser Dave Nelson. "I think this will certainly be a concert to remember".
The concert starts at 3pm and tickets (££.00 with £6.00 concessions and £2.00 for under 19s) are available on the door. The next performance at Wainsgate Chapel will be a solo guitar by Andrew Clegg on July 1st as part of the Hebden Bridge Arts Festival.
Wainsgate Chapel is on Wainsgate Lane, Old Town, Hebden Bridge HX7 8SU. Parking there is limited and reserved for disabled drivers. There are plenty of footpaths for those who'd like to walk from Hebden Bridge or there's an hourly bus service to Old Town Mill Lane (opposite Wainsgate Lane) where parking is also available. More information at about the venue and future events can be found at www.wainsgate.co.uk.