HebVeg looks for new crop of members
Thursday, 21 June 2012
HebVeg - Hebden's own community supported vegetable growing project - is looking to grow its membership.
Each week, members receive either a large or small veg box full of delicious seasonal, organic veg sourced as locally as possible, including some items grown in and around Hebden Bridge.
Now HebVeg are celebrating the arrival of local summer veg and looking to recruit new members by kicking off a special time limited offer at their stall on the park for the Handmade Parade this Saturday -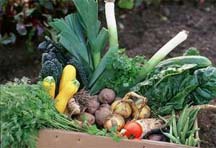 Trial veg boxes are on offer at half the usual price. A small box is just £3 (suits 1-2 people) and a large box (suits 2-4 people) is just £6. The offer is limited to one trial box of each size per household. If you like the trial box, you can join as a member and either pay a lump sum or a monthly standing order to receive weekly veg boxes and give your support to the scheme.
All money raised from the sale of HebVeg veg boxes is being used to pay a grower working on plots of land loaned to the group. They have ambitious plans to provide most of the produce for the boxes from within just a few miles of Hebden Bridge. With their existing grower moving away in the autumn, HebVeg are on the lookout for a replacement.
"We would really like to hear from anyone who has experience in growing vegetables on a largish scale" says Ben Oubridge, co-ordinator of HebVeg. "They would need to be willing to be flexible in what hours they work each week and be able to help recruit and co-ordinate enthusiastic volunteers too".
Ben is also keen to identify partner grower suppliers – local people with land who already grow some veg to sell or would like to start. HebVeg can help to secure them a regular guaranteed income for veg they produce. "We would need to have some co-ordination and agreement with them to make sure we get a good mix of crops" suggests Ben " but we could also offer them support from our HebVeg grower and volunteers" he adds.
To find out more about HebVeg or to take up the trial box offer, visit them from 12 midday on Saturday 23rd June at their stall on Calder Holmes Park after the Handmade Parade. Alternatively, email info@hebveg.org.uk