TRADES CLUB FLOOD RELIEF BENEFIT
with Owter Zeds and Mean Business
Friday, 29 June 2012
Two local bands who are at the heart of Calder valley's music scene are getting together with the Trades Club to raise fund for the flood relief fund.
Rocking ska band the Owter Zeds will be joining forces with the valley's foremost rhythm and blues band for a benefit night at the Trades Club on Wednesday 18 July.
"Everyone is pulling together as part of a fantastic community effort," said lead guitarist Wally Zed. "People are doing what they can with practical help, Facebook links and all sorts of things being offered. Naturally, we want to do our bit and thought that our best way of helping would be with a benefit gig."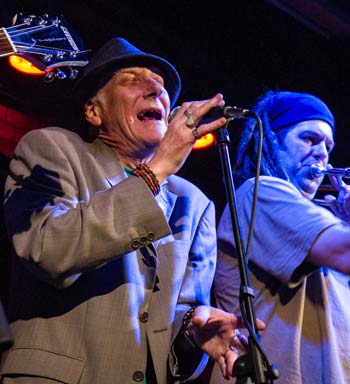 The Trades Club's cellar fell victim to the flood along with a lot of other businesses and homes. "Lots of members turned up to help with a clear up, and we weren't as badly affected as some, so we were able to re-open fairly quickly," added Dave Boardman from the club's entertainment group. " Putting on benefit gigs for all kinds of good causes is a major part of our role in our community, so it is good to get one organised so quickly and these bands are both part of the community and very keen to help out".
Tickets are on sales at the club at £10 each and everyone is hoping for a sell out. Money will go to the relief fund set up by Calderdale Community Foundation.
As well as raising money this promises to be a great night out. Local ska legends The Owter Zeds celebrated their 25th anniversary a couple of years ago as part of the Hebden Bridge Arts Festival and Mean Business are a wonderful band of musicians, who perform soul and r'n'b and funk classics from the last half century.