Praise for flood clean-up team
Tuesday, 3 July 2012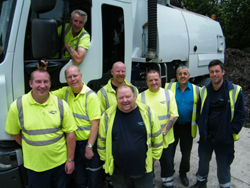 Calderdale's Safer, Cleaner, Greener team worked flat out to get the towns moving again.
With rivers at their highest ever recorded level, Todmorden, Hebden Bridge and Mytholmroyd were particularly badly hit by the flooding, resulting from a whole month's rainfall in just a few hours.
But the team spearheaded the clean-up, working with the emergency services through the night and all the next day.
(Safer Cleaner Greener Teams are working within Neighbourhood Areas, delivering street cleansing, grounds maintenance, countryside services, play ground maintenance, tree management, park and nature reserve management services.)
Safer Cleaner Greener Area Manager, Phillip Schofield got the first call at 9pm on Friday night to get gulley-clearing wagons on standby.
By 3am, he'd got the call to mobilise as many sweepers as possible.
That's when the team really swung into action, literally working round the clock to get the streets cleaned up.
The main roads in Todmorden were thick with mud and debris. Cars were just abandoned in the road. But the team was up to the task. Many worked continuously from the early hours of Saturday morning until late the same evening - 20 hours plus - snatching a few hours of sleep before going out to carry on with the clean-up on the Sunday.
Phillip Schofield says: "They're a grand bunch of lads! They were fantastic and it's a real privilege to work with people who are so committed and who pitched in straight away."
But the clean-up has been a real team effort. Team member, John Dempsey, was full of praise for Phillip.
"He really looked after us, making sure that we were all OK. He is a great boss."
Calderdale Council's Leader, Cllr Tim Swift, paid tribute to all of the Council employees who have been involved: "I've been really impressed by how our teams have responded to this crisis. They've done a fantastic job in turning things round so quickly".
And Deputy Leader, Cllr Janet Battye, said staff had gone the extra mile to help people. "I was impressed with the way in which they tackled the situation. I was out in the Calder Valley when they were working and they responded magnificently, and always with smiles on their faces."