Community Wind Turbine - share offer success: turbine operational by October.
Wednesday, 8 August 2012
Pennine Community Power have announced that they have reached their target for applications for shares in the community wind turbine at Blackshaw Head", Paul Willson, treasurer of Pennine Community Power (PCP) and acting chair of Blackshaw Environmental Action Team (BEAT) told the HebWeb.
"Our target was £28,000 but we had applications for shares worth £32,500 from 61 individuals. All 61 live within five miles of the site of the wind turbine and the vast majority of them live in Blackshaw Head or Colden."
"Nearly all the applications we received were for either £250 or £500, which allows all the local people who wanted to become a member of the Pennine Community Power cooperative to become a member and have a say", explains Paul Willson.
"We are now ready for the foundation for the wind turbine to go into the ground in mid-August. We need to have the transformer for the grid connection upgraded, which will happen on 24-25th September. So if everything goes to plan the wind turbine should be operational by early October."
"We would like to thank everyone who has made this possible. Once all the cheques have been cleared and all the payments received we will be contacting all the applicants with details of their share allocation", concludes Paul Willson.
Public Meeting: Community Enterprise Pioneering Share Offer!
Thursday, 5 July 2012
For further information, see below, go to Pennine Community Power website or come to the Blackshaw Environmental Action Team (BEAT) public meeting on Wednesday 11th July at 7.45PM at Blackshaw Head Methodist Church (the Chapel). Bus E leaves Hebden Bridge at 7.30PM and stops right outside the Chapel and bus E goes back to Hebden after the meeting. Coffee and tea is served for free. Everyone is welcome.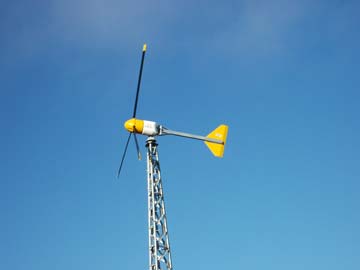 A local renewable energy enterprise has launched shares in an exciting community energy project which aims to generate over £100,000 for the local community.
Pennine Community Power (PCP) is a community owned renewable energy enterprise set up by a group of local residents with the vision of raising funds for their community by generating electricity from renewable resources.
Having already fought off fierce competition to secure £30,000 of funding from the Village SOS scheme towards installing a community wind turbine in Blackshaw Head they are now looking to local residents to invest in the project. Standing 350 metres above sea level Blackshaw Head is an ideal place for a wind turbine where it can harness one of the area's most abundant natural resources. The cooperative enterprise will be both owned and controlled by its local shareholders and for a minimum of £250, investors can be part of this pioneering project.
Electricity from the wind turbine will be fed into the national grid which will generate an income through the Government's feed-in tariff scheme. Community shareholders will see their investment repaid over 15 years, with interest, while all additional income will be ploughed directly into the community to fund further sustainability projects.
A lot of careful thought and planning has gone into selecting the quietest and most efficient turbine. Standing on a 12 metre matrix mast the SIAC 10kW model is able to generate enough electricity to power the equivalent of seven local homes.
Dr Ashley Sharp, one of the founding members of PCP explains "the great idea behind this project is that everyone benefits from having the turbine within their community through the income fed back through the electricity generated. As well as being a much needed source of seed funding for other projects, the turbine will also be an educational resource and a focal point for community owned energy projects
PCP has a vision to foster sustainability within the Calder Valley and we see the turbine as a small step in the right direction. One of the key advantages of a Community Benefit Society is that everyone has an equal say in how the revenue is spent regardless of the size of their initial investment."
Shares have been on offer since 21st June and may be purchased until the end of July. If you'd like to find out more information about the venture or would like to find out details of how you can invest in this community project please come along tothe public meeting on Wednesday 11th July at 7.45PM at Blackshaw Head Methodist Church.
You can also find details on the Pennine Community Power website where you can find regular project updates.