July Flood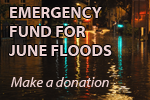 Just over two weeks since the previous 'worst for 50 years' flood, came a another. And this was just 3 days after the river nearly burst its banks again on Friday during the royal visit. This time, it wasn't the rivers, but drains were overwhelmed. Birchcliffe Road and Keighley Road were rivers of water. Water fell down off the hillside through every valley, track, and hole in wall, much of it gathering in the centre of Hebden Bridge.
See photos below.
Links to Media and YouTube coverage
Guardian Northerner - "The Hebweb in Hebden Bridge, which is chronicling the town's second major flood in three weeks in vivid detail, reports that 25 wagon loads of muck and rubble have alreadt been removed from the town's streets."
Mail Online - Flash floods hit Hebden Bridge (see their photos)
BBC Leeds: Mytholmroyd and Hebden Bridge hit by flooding
Geoff Tansey talks to Radio Leeds
Guardian - Flash floods hit Hebden Bridge
ITV Clip - Macpelah
YouTube video clip of the Keighley Road river
YouTube video clip of the Birchcliffe Road river
Jason Elliott's YouTube video of Monday's floods
YouTube - Midgley River
Facebook: Active Facebook group for Calder Valley Flood Victims
Mail Online - Town that won't stop flooding: Hebden Bridge cleans up for the third time in three weeks - and faces another soaking (11 June)
HebWeb reports, as they happened
Monday, 9 July 2012, 23.10 - latest update.
21.30: Update from Calderdale: All roads in Hebden Bridge are now open and passable with caution, with the exception of the A646, Burnley Road. Work to clear the road is ongoing and we expect the road to re-open soon. The low risk of flooding from Nutclough Reservoir has now past and Calderdale's Emergency Planning Team has been stood down.
20.45: Local journalist Geoff Tansey talks to Radio Leeds just before 7pm about the floods outside his house near Macpelah, and gives the HebWeb a mention.
20.30: Calderdale Highways Agency have removed 25 wagon loads of rubble from Hebden Bridge roads. Nearly 500 tonnes was washed onto our roads
20.00: Upper Valley police tweet: The Burnley Road near Hebden Bridge Railway Station will remain closed for at least 2 more hours.
19.30: Flooding is causing disruption at Walsden. Because of this, trains between Hebden Bridge and Rochdale may be delayed by up to 30 minutes. There is currently no estimate for a normal service to resume.
18.30: Upper Valley police tweet: Heights Road now open. Road between Luddenden Foot and Hebden Bridge OK. Hebden Bridge to Tod still closed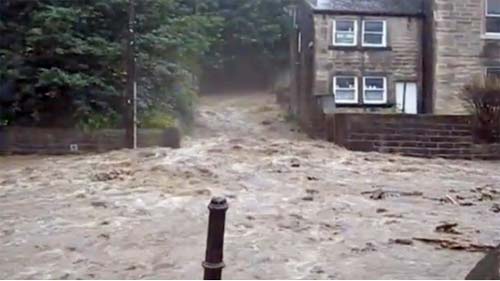 Above: From ITV Calendar showing the water entering the main Burnley Road opposite Hebden Bridge Station. See ITV Clip
17.47: Update from Calderdale: Police are warning people that the heavy rainfall has made Hebden Bridge impassable by car. People are asked to avoid trying to drive into the areas at this time because they risk becoming stranded in their vehicle and also they may force water into businesses and homes which are on the roadsides. Those living in Hebden Bridge and Mytholmroyd are advised to stay indoors and not venture out into the floodwaters. Emergency Services are working as usual but we would ask, as always, that you only contact us in an emergency.
17.33: Upper Valley police tweet: Contrary to some reports, the A646 is still closed in Hebden Bridge and Mytholmroyd with no vehicle access available.
17.20: Upper Valley police tweet "all roads are nose to nose with standing vehicles. We are trying to avoid adding to this problem" and "Reports of the road surface on ‪Heights Road‬ over the tops is subsiding. Do not use.
17.00: Cinema closed tonight due to the floods in Hebden Bridge.
16.40 Upper Valley police tweet that canal has now breached its banks and is flooding the town centre. Keighley Road now closed.
Torrential rain above the hillside on Keighley Road has resulted in rivers of surface water overwhelming drainage systems in Hebden Bridge.
This afternoon, Burnely Road from NatWest Bank to the Marina, most of Market Street to past the Co-op and George's Square were among the places flooded by today's torrential rain.
There is heavy localised flooding in the town. The Library has been closed and evacuated. Police have closed Burnley Road between Mytholmroyd and Todmorden and are advising that people avoid travelling in the area.
Police, the Environment Agency and the Council engineers are in attendance. Highways engineers are checking drains and strategically placing sandbags in areas known to be particularly vulnerable. The Council expects the floodwaters to subside quickly.

People requiring information and assistance should call the Council's Contact Centre on 0845 245 7000

While trains are currently running normally, there are reports of severe disruption on some bus routes.
And see YouTube video clip of the Keighley Road river
And see YouTube video clip of the Birchcliffe Road river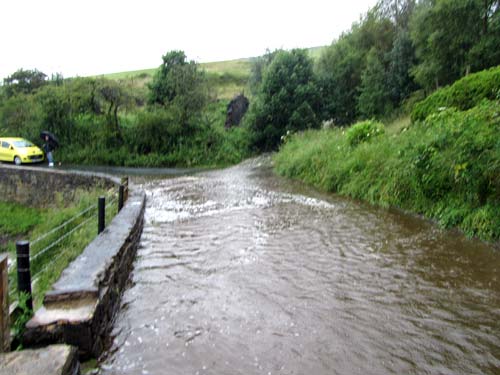 Thanks to Julian Harber for the above photo who writes: "This is at Bessie House, Height Road between Foster Clough and the Mount Skip.The road was closed for well over an hour as the water was over 2 ft deep and spilled over the wall on the left. With Burnley Road closed this meant the only access to Old Town from the east was either via Keighley or Wainstalls and Fly Flatts Reservoir."
Thanks to Nigel Yorke for this picture of the road near Lanes Ends where the torrents ripped the tarmac off the roads.
Thanks to Andy Spencer for this photo taken around 8pm as the cleanup in Market Street gets under way.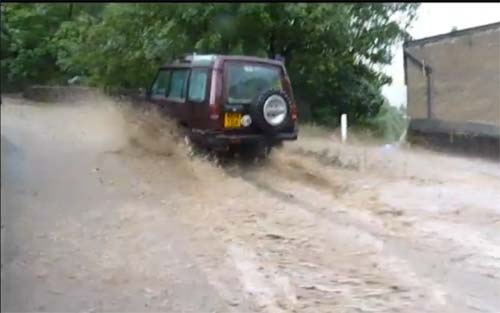 The above photo of the road to Fairfield near the Co-op is taken from Jason Elliott's YouTube video of today's floods.
One friend of a Hebden Bridge resident cut off in the flash floods when the cobbled, culverted road to their house turned into a torrent wrote 'Yes I thought that was your drive on the TV but not completely sure as it looked so different as a river'