Hebden Bridge Food and Drink Festival
Monday, 10 September 2012
During Autumn half-term, between October 20th and 28th, the town of Hebden Bridge will be holding it's first ever Food and Drink Festival.
For an area located in a steep-sided valley, the town and its surroundings are remarkably productive when it comes to food and drink with all kinds of produce, from chocolate and beer to organic meat and rare vegetable varieties, being made locally.
Jason Elliott, one of the organisers, said, "As consumables in all forms appeal equally to residents and visitors alike, everyone needs to eat and drink, it seemed a good idea to pull the local producers and suppliers for a series of events running every day for a week at a time when most flood affected businesses will be open again and a larger than average number of people will be able to attend as its the school holidays."
Spearheaded by the Hebden Bridge Community Association with support from the Business Association and the local councils, the idea is to show the world that Hebden Bridge is very much back in business with a series of events designed to attract "foodies" from across the North.
A wide variety of events are in the pipeline including tasting trails, chocolate making, talks, chef's cookery demonstrations, pizza making for kids, various extra markets including a "street food" market, real ale sampling and much more.
The most emblematic event will be a "handmade" lantern parade on Saturday 27th at dusk organised by Andrew and Kathy of Thingumajig Theatre and supported by the Community Foundation for Calderdale. It is rumoured that this will include some kind of writing with fire on the canal too.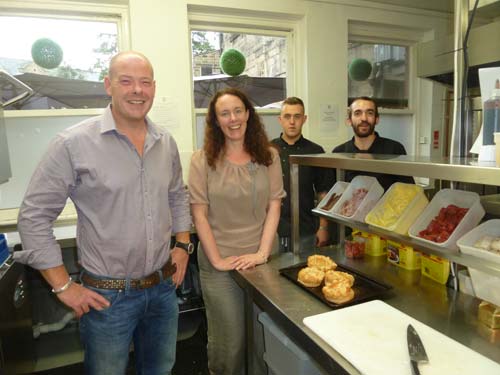 Community Association Business Development Officer, Amy Leader said, "This is a wonderful opportunity to demonstrate the great variety of food and drink available in this area, much of it grown locally by organisations like HebVeg and the Calder Food Hub, as well as the huge amount of specialist knowledge in the town.
"Although we want to ensure that visitors circulate as widely through the town as possible, we will also be holding events on most days in the Waterfront Hall of our new Town Hall building"
Incoming Business Association Chair and proprietor of The White Lion Hotel, Michael Grimes, is organising a meeting at 7pm on September 18th for anyone who'd like to be involved.
"We will be talking to all traders to see if we can't get broad consensus for Saturday 27th to be a late shopping day with stores closing at 8 or 9pm to take advantage of the influx the festival and the lantern parade will bring.
"We also want to run through a broad range of suggestions for those businesses who are unsure about what they can do to get involved. For example, many traders will have suppliers who will be interested in using the occasion to get customers to taste and try out new products, whether coffees or frying pans," he said.