New Guide to help businesses in Hebden Bridge beat the economic downturn
Friday, 14 September 2012
Think local to beat the downturn, businesses are advised
Get vocal about all things local: that's the message of a new survival guide to help businesses in Hebden Bridge beat the economic downturn.
The 'local distinctiveness handbook' has been produced by rural regeneration company Pennine Prospects, as part of a innovative campaign to support tourism, hospitality and creative businesses in Hedben Bridge and across the South Pennines.
Packed with practical advice and tips, and illustrated by critically-acclaimed artist Angela Smyth, the free guide is designed to help businesses keep the cash tills ringing by focusing on the area'sunique charm and character – from its landscape to its local delicacies.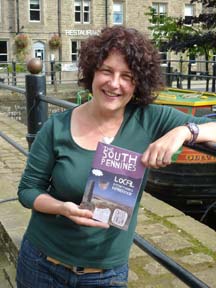 Rebecca Yorke, pictured right holding the new handbook, Pennine Prospects' local distinctiveness coordinator said: "There's no denying that many tourism and hospitality based businesses in our region are under pressure, due to the very challenging economic climate. The handbook, and the wider campaign, is about helping them to get new customers through the door, through more effective marketing.
"Visitors are much more sophisticated these days. They want to really immerse themselves in a place – its local food and drink, culture, character, and quirkiness. By bringing this local distinctiveness to life, we can get visitors to stay longer and spend more.
"We hope businesses in Hebden Bridge will take the opportunity to order our free marketing handbook, and sign up to the mailing list, to keep up-to-date on the range of workshops and events that we have in store throughout the remainder of the year."
Businesses can order a free copy at www.southpennines.co.uk , where they can also join a mailing list for updates on future events and marketing workshops associated with the wider campaign.
The handbook is part of the South Pennines Local Distinctiveness Project, a business advice and marketing project, which was launched by Pennine Prospects earlier this year to give a boost to local tourism based businesses.
Rebecca Charlton, who runs the Stamp Office, a characterful holiday let cottage in the centre of Hebden Bridge said: "The handbook is a breath of fresh air. It says a lot of the things I had been thinking, but hadn't yet properly processed.
"People are always asking about the history of the cottage and the wider area, and by being able to share the information and make recommendations about where they should go and what they should see, we've found we can keep them coming back. It's about helping visitors to dig a bit more deeply, so they have a richer experience."
Forthcoming campaign activities including the launch of a new website to promote the region's pubs and breweries.
The South Pennines Local Distinctiveness Project was originally piloted in 2010 in Haworth, Hebden Bridge and Holmfirth. More than 160 businesses participated in the pilot. Its success paved the way for this year's launch of much wider campaign across the South Pennine region – an area which straddles the Lancashire/Yorkshire border and extends from Uppermill to Ilkley.