The Hebden Bridge Comedy Club Is Back!
Thursday, 20 September 2012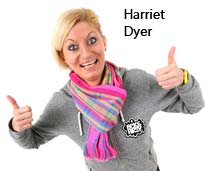 The Hebden Bridge Comedy Club ran from Sept 2011 to March 2012 and caused quite a stir in the town. Comedians from Africa, Australia, the US and Canada joined home grown talent such as Alun Cochrane (AKA Frank Skinner's Absolute Radio side-kick The Cockerel ) and Jason Cook, whose new BBC sitcom 'Hebburn' airs in October.
Despite well received shows that sold out in advance the fun stopped this Spring. Promoter Rob Riley explains: 'There were issues with our original venue which made carrying on impractical so I waited for somewhere suitable to appear. Earlier this year we got wind of the Old Gate Bar and Restaurant opening in the town and I heard on the grapevine they were looking at live entertainment...'
Architects plans were pored over, calculations were done and a deal was struck. And what can customers expect?
"We're sticking to the tried and tested formula but the more intimate and much more comfortable space should catapult the gig into the comedy club premier league."
And the comedians?
"Oh. Don't worry. I can assure you they will be very Hebden Bridge." Riley grins. " Between now and December we have a Buddhist karate expert, a transvestite vegan and another of the stars from the BBC's stoner's fave 'Ideal' all appearing in the town for the first time."
Riley has recently had surprise appearances from John Bishop and Jason Manford at other gigs he runs in the North West. Could the same happen here?
"Well, if I told you it wouldn't be a surprise would it? Let's just say it isn't outside the bounds of possibility."
October's show will be headlined by Liverpudlian Simon Bligh who is the aforementioned Buddhist and fifth dan karate black belt. He is also a Perrier Award Nominee and former Time Out Comedian Of The Year. Harriet Dyer hails from Cornwall and has quickly gained attention for her high energy ramblings based on a very eventful life. Newcastle's John Whale completes the line up alongside resident compere, adopted Todmordian, Martin Mor.
The show takes place on Sun 14th October, upstairs at the Old Gate at 8pm prompt. Admission is £8 but advance tickets are strongly advised either online here or paper tickets on sale at the venue in the next couple of weeks.
Further information on 07874 152338