Freedom from Torture supporters' group: report of meeting
Tuesday, 16 October 2012
The Calderdale Support Group for the charity, Freedom from Torture, held its first meeting last Wednesday in Hebden Town Hall. It was attended by a dozen people from along the Calder Valley from Halifax to Todmorden.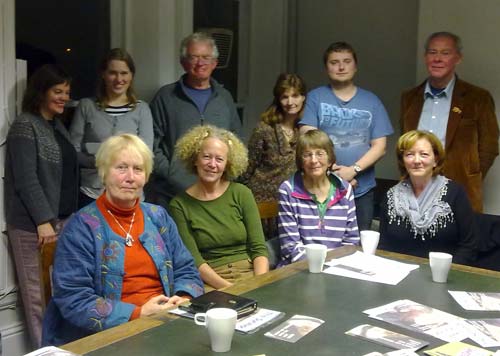 Freedom from Torture is a British charity which has been working for 27 years to provide direct clinical services to survivors of torture who arrive in the U.K. as well as striving to protect and promote their rights.
Originally based in London, following the policy of dispersing asylum seekers and refugees around the country, it has set up permanent centres in Birmingham, Manchester, Newcastle and Glasgow. It has begun to extend its coverage to Yorkshire with the appointment of a part-time worker based in Leeds. It is hoped that eventually a permanent centre can be established in Yorkshire as the Manchester centre is already over-loaded with 250 referrals to it in 2011.
The local supporter group will assist the work of Freedom from Torture in three ways.
First, it will raise funds. As Freedom from Torture does not accept government funds, nearly all its funding comes from voluntary sources, 70% from individual donors.
Secondly, it will work to identify people in Calderdale who have skills which could help the work and are willing to volunteer some time to help.
Thirdly, it will organize events to raise awareness of the issue of torture and the plight of its victims.

Its first activity was to take part in the Hebden Community Fayre on Saturday where over forty people indicated that they would like to be involved in the support group.
Future activities are likely to include music and poetry evenings, quiz nights and sponsored challenges. A similar support group in Sheffield has recently received an EU grant to extend existing work on a therapeutic garden where torture victims can use nature to recover from their ordeals. Support group members who are gardeners may 'shadow' this work to develop similar activity in Calderdale.
Anyone wishing to learn more about the work of the support group should contact Calderdale Freedom from Torture at prior.energyconsultant@gmail.com or on 07960 369997
The next meeting of Freedom from Torture will be on Thursday, 15 November in the Greenwood Room of the Town Hall at 7.00 pm
Proposed local Freedom from Torture supporters' group
Sunday, 23 September 2012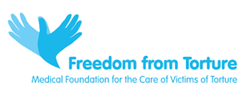 Freedom from Torture is a charity that has been working for 25 years to provide direct clinical services to survivors of torture who arrive in the UK, as well as striving to protect and promote their rights.
Since its inception, over 50,000 individuals have been referred for help. Many of its clients are refugees and, following the policy of dispersing refugees, it has opened centres throughout the country. There are now centres in Manchester, Glasgow, Birmingham and Newcastle.
Earlier this year, a therapist was appointed to coordinate work in Yorkshire and Humberside with the eventual aim of opening another regional centre. Freedom from Torture is heavily dependent upon private donations and has a network of support groups throughout the country. It does not accept money from the Government in order to remain totally impartial.
Two Hebden Bridge residents are seeking to set up a support group in Calderdale to raise funds and to increase awareness of Freedom from Torture's work and the general issue of torture. Evidence of British involvement in the torture of detainees overseas makes such action all the more important.
Further information about Freedom from Torture can be found on their website.
Anyone interested should contact Renny O'Shea or Michael Prior.
Meeting now arranged for Wednesday, 10th October at 7pm in the Greenwood Room, Hebden Bridge Town Hall.