Poets at Wainsgate
Sunday, 23 September 2012
Sunday September 30th at 3pm
In a new and exciting addition to its acclaimed music concert programme, Wainsgate Chapel's autumn season branches out into the realm of the spoken word. In the first of what is hoped will be a regular event, three poets, two local and one from Germany, present their work as a trilogy entitled Being Faced with Three Bold Tongues.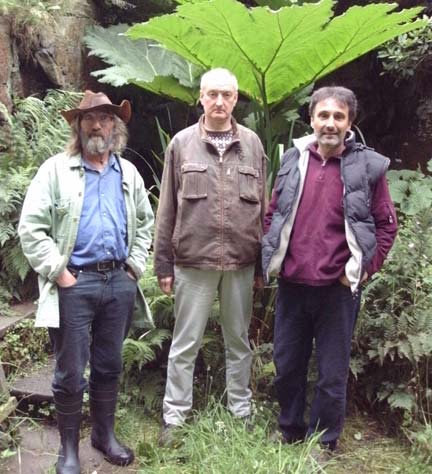 Best known in the Calder Valley area, but with considerable renown further afield, is Michael Haslam whose work is inspired by life and language in the Upper Calder Valley. Born in Bolton, Lancashire in 1947, he has lived at Foster Clough near Hebden Bridge since 1970, and has published various books and pamphlets including two sets of Collected Poems. His most recent books have been published by Arc Publications of Todmorden. He received a Cholmondeley Award for his work in 2011.
Living until very recently in the Pennine village of Wadsworth in the hills above Hebden Bridge where he spent his childhood and youth, Robert Wordsman has a background in teaching and writing poetry for children. His more contemporary poems have a theme which he refers to as 'the presence of place'. His most recent work is a major poetic project entitled 'Ballads for the Consciousness Soul: East and West' in which he contrasts the manifestation of 'presence' in Romania with that in Ireland. These attempt to weave together the phenomenological, imaginative, historical, political and biographical dimensions of these places.
Born in Germany but now living in York, Finn Stirm is now an established poet in both countries, having been a performer of live poetry for the last 27 years. His book A Hole of Bright Presence was published in 2003. He writes and reads his poems in English.
"I've always wanted to promote spoken-word events at Wainsgate," said concert organiser Dave Nelson, "so I hope this one will turn out to be a popular start. We will think about presenting similar events every couple of months if it's clear that there's a demand for them."
The concert is on Sunday September 30th at 3pm, and tickets (£8/£6 and £2 for under 26s) are available on the door.
The season's final performance at Wainsgate Chapel will be on Sunday October 15th when Red Hippo, featuring local music stalwarts Peadar Long, Daz Jones and Simon Chantler who bring their own distinctive take on jazz-folk to the Chapel.
Wainsgate Chapel is on Wainsgate Lane, Old Town, Hebden Bridge HX7 8SU. Parking there is limited and reserved for disabled drivers. There are plenty of footpaths for those who'd like to walk from Hebden Bridge or there's an hourly bus service to Old Town Mill Lane (opposite Wainsgate Lane) where parking is also available.
More information at about the venue and future events can be found at www.wainsgate.co.uk.