The world of Cornelius Ashworth
Tuesday, 2 October 2012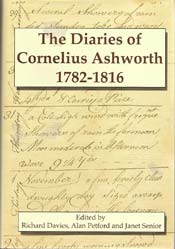 Alan Petford's talk to Hebden Bridge Local History Society revealed a wealth of information about the farming practices on an early 19th century Pennine farm

The name Cornelius Ashworth has featured in the footnotes of history as a useful example of the kind of hard-pressed weaver-farmer who typified the economy of 19th century Halifax.
His name is known largely because of four diaries from 1782 to 1816 preserved by the Halifax Antiquarian Society in West Yorkshire Archives. But as local historian Alan Petford told the audience at the first of this season's meetings of the Hebden Bridge Local History Society, this simplistic caricature turns out to be untrue.
Alan Petford has led a group in Hebden Bridge who have carefully transcribed the diaries, and conducted detailed research into the life that is recorded there. Far from being poor, he married into a wealthy family, and his wife's farm Walt Royd (in Ovenden) was one of the very few that was owner occupied. Walt Royd and the land surrounding it is almost unchanged since Cornelius Ashworth left it.
Alan Petford's fascinating talk provided an intriguing glimpse into the life of this nineteenth century Halifax man. The diaries contain no trace of scandal, gossip or personal feeling, but they do provide a wealth of information about the farming practices on a 19th century Pennine farm.
Cornelius Ashworth recorded how he employed men in 'graving': a local technique for preparing the land where it was impossible to use a plough. He also used an innovative technique called 'water-furrowing,' diverting water to provide controlled flooding that would ensure an early crop of grass. Excitingly, traces of the water furrows and the remains of the weir can still be seen at Walt Royd.
In the usual pattern for a Pennine hill farmer Cornelius Ashworth was also a weaver of worsted cloth. This was an activity that could be slotted into the farming year when things were not so busy. But Cornelius Ashworth had many other strings to his bow: the evidence is, Mr Petford explained, that he was a man keen to make money. He seems not to have been a skilled man, but he took on building and quarrying work and selling hops, collecting his 'pocket of hops' (a man-sized sack) from the wharf at Salter Hebble, and selling them to brewers and local families.
Much of his time was spent working in the countryside, but his heart was in the town of Halifax, and especially at Square Chapel, of which he was a founding member. It was here that he spent most Sundays, listening to the sermons of Mr Titus Knight, and recording in his diaries details of the Bible readings which provided the starting point of these lessons. His religious faith was probably what led him to keep the diaries: he was attempting to 'redeem the time' and show that his was a life well spent.
The detailed questions posed by the audience reflected that the time taken to transcribe these diaries and conduct the background research has definitely been time well spent. The resulting Diaries of Cornelius Ashworth edited by Richard Davies, Alan Petford, and Janet Senior is available from the society and from local bookshops.
Hebden Bridge Local History Society holds fortnightly lectures on Wednesday evenings at the Methodist Hall in Hebden Bridge. Details are available on our What's on section, in the library and on the website: www.hebdenbridgehistory.org.uk