Marie Curie Planting Day
Wednesday, 17 October 2012
Get your hands dirty, plant a bulb and raise money!
On Friday 26th October, Hebden Royd Town Council will be holding a Bulb Planting day to raise money for Marie Curie Cancer Care.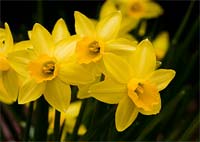 A charity that is close to hearts of many, Marie Curie needs to raise £10,000 every hour, every day to be able to carry out their work. Marie Curie has 2,000 nurses in the UK and last year they worked for 1,200,000 hours caring for terminally ill patients, including half of all cancer patients who die at home. They also have nine hospices and are the biggest provider of hospice beds outside the NHS. In total, Marie Curie spends over £80 million a year on its charitable activities of providing care as well as on research and development.
Hebden Royd Town Council is inviting residents to take part in planting daffodils to help raise vital funds for Marie Curie. People wishing to plant bulbs will be asked to donate £1 per bulb or £5 per 10 bulbs. Perhaps people will want to plant bulbs in memory of a loved one, or just because they care.
Cllr David Young – Chair of the Environmental Renaissance Committee said "Although we plant bulbs every year, this year we thought that we would do something different. This allows us to raise funds for a great cause as well as enabling the community to be involved in creating a lasting tribute to their loved ones".
The planting will take place across Hebden Bridge and Mytholmroyd at the following times; 10am – 11am at the turning circle on King Street, 11:30am – 12:30am –at Old Gate, 1:30pm – 2:30pm at Burnley Road (opposite the former clog factory), and 3pm – 4pm at White Lee Rec.
If you would like to be involved all you need to do is turn up at one of the sessions with a donation and a trowel (although trowels etc. will be available) and get digging.