Hebden Bridge "Eccentrics" strip off to show support for The Naked Rambler
Monday, 29 October 2012
Twenty five half-naked individuals braved the Yorkshire drizzle this morning to pose for photos in support of Stephen Gough – "the naked rambler". The photocall was initially suggested by local Businessman, Michael Gregg (known as "H") following Gough's arrest in Hebden Bridge on Wednesday. H posted on the Town's community forum, HebWeb:
"I suggest that a fitting gesture would be for a few people get naked on and around the Old Bridge and have a photo taken."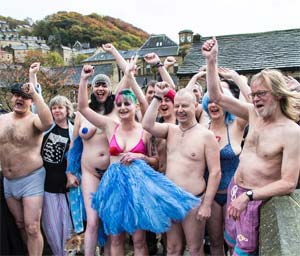 Hebden Bridge Eccentrics: Proud to support the Naked Rambler. Thanks to Craig Shaw of Blu Planet Photography for this photo. Click to enlarge.
H said today: "I think people thought I was joking when I suggested we strip off for a photo, but I was deadly serious. I knew lots of locals shared my disbelief that the Police had seen fit to arrest Stephen. Hebden is a town known for being tolerant – as a community we pride ourselves on our live-and-let-live attitude. The irony that Stephen has walked over 260 miles without any trouble only to be arrested in what is probably the most-tolerant town in Yorkshire was not lost on many of us."
Shortly after posting his suggestion on the HebWeb forum, H was contacted by local Burlesque Promoter, Heidi Bang Tidy, offering help with arranging the photo call. The pair set about rallying local support, handing out fliers, posting on social networking sites and plastering the sleepy town in posters which read: "What will you do with your extra hour this Sunday? Why Not Come to Hebden Bridge and Get Undressed?"
Heidi Bang Tidy explained her reasons for getting involved: "I am often labelled as an "eccentric". It's a label I'm actually quite proud of – who wants to be "average"?! I wanted to show my support for Stephen, who has also been labelled eccentric. People make the mistake of thinking that being publicly naked is the same thing as being publicly sexual. It's not. We still have a long way to go with regards our attitude to nakedness and people's right to personal freedom."
As well as a handful of half-naked and fully-clothed locals who gathered on the bridge, the event attracted people from farther afield. Augustus (a 49 year old musician and poet) travelled from Rugby to come and get naked in Hebden Bridge: "I saw the event online and wanted to come and show my support. I believe that being naked is a natural state: I often do my gardening in the nude. I set my alarm for 6.15am and drove 130 miles to be here. I'm so glad I made the trip."
H and Heidi Bang Tidy hope that other towns along Stephen's route will follow suit and show their support for the naked rambler by organising similar photoshoots as he heads South.
"It would be wonderful to see other people - eccentrics or otherwise - turning out to support Stephen as he heads home." H said.
Following his arrest, Stephen Gough sent a text message to his spokesperson: "Hebden Bridge: nice town, nice people, but unfortunately, as in a lot of places, the authorities (in this case the police) don't understand that to serve the community, is to use their judgement, not to blindly follow the opinion of those they serve."
Stephen Gough was released on bail from Police Custody in Hebden Bridge on Thursday 25 October. He was arrested again in Halifax Town Centre on Thursday afternoon. His case will be heard at Halifax Magistrates Court on 5 February 2013.
See also:
HebWeb News: Naked Rambler in Hebden Bridge