Tuesday, 3 January 2012
TV Comic's Hebden Trip!
Sunday 8th January isn't a date that springs out from anyone's diary. Christmas has emptied the coffers, Summer is months away and the first pay day of 2012 looks similarly distant. The people behind the monthly comedy night at the Trades Club, Hebden Bridge have come up with a unique solution to empty pockets and gloomy weather by persuading TV comedian Alun Cochrane to perform on their first show of the year.
A spokesperson said, ' We could have skipped a month but then we wondered about better known acts wanting to dust the Christmas cobwebs off in front of a small but appreciative audience. Alun was amongst the first acts we left messages and he got back straightaway!'
He's been described as 'the future of British Comedy.' by the Evening Standard, and the Metro said he was 'a master storyteller, holding the audience befrore dropping a simple but exploding punchline'.

"Ordinarily the Trades wouldn't be able to afford Alun, but he's heard good things about us and wants to dust the cobwebs off after the Christmas break," says Trades Club spokesperson Paul Clarke. "But he is coming to try some new stuff out on us so we are able put one of the best in the business on for peanuts."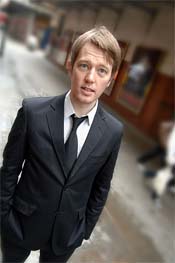 Huddersfield's Alun Cochrane is a regular on your telly with credits including 8 Out Of 10 Cats, Mock The Week and Michael McIntyre's Roadshow. He's also livening up Saturday mornings as sidekick to Frank Skinner on his Absolute radio show. A good, old fashioned, observational comic Alun's knack is to mine a rich seam of funny from even the most commonplace or mundane event.
Corporate clients appreciate the ability to tailor his act to a specific group whilst still being extremely amusing and original- he owns several suits (at least 4) and now he has a child is particularly happy to wear one of them for work of this nature. Perhaps less pleasing to him is discovering he is good at work in this sector just as an enormous economic downturn strikes. Hmm.
Support comes from genial geordie Barry Dodds who has forged an enviable reputation for himself over the past few years, charming audiences nationwide, with his uniquely tailored combination of disarming Geordie wit and wry, down-to-earth observational humour. Hotly tipped Liverpudlian Adam Staunton fills the middle spot and Todmorden's Martin 'Big Pig' Mor takes the compering reins.
The show starts at 8pm prompt and admission is £7 on the door or £6 by booking online. Further information on 07874 152338