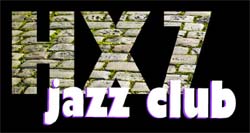 The Nicolas Meier Quintet featuring Gilad Atzmon
The next HX7 Jazz Club is on Thursday November 22nd, when Swiss guitarist Nicolas Meier brings his superb Quintet to the Trades Club stage. The club is delighted to welcome the band to Hebden Bridge, not least because it features the awesome virtuosity of Israeli saxophone superstar Gilad Atzmon, famed for his leadership of The Orient House Ensemble, and his long-standing membership of Ian Dury and the Blockheads.
Gilad Atzmon: sax, clarinet
Demi Garcia: percussion
Pat Bettison: bass and harmonica
Asaf Sirkis: drums
Nicolas Meier: acoustic guitar and glissentar
A fantastic fusion of Flamenco, Turkish and Eastern music creatively colliding with the likes of Metheny and McLaughlin. Plus a world-famous superstar of the saxophone!
In just a few short years UK-based Swiss guitarist Nicolas Meier has carved a reputation out as one of the UK's most original guitarists. Drawing on a love of Turkish and Eastern music as well as Methenyesque fusion and flamenco, Meier has developed his own unique acoustic sound. He also plays the eleven-stringed fretless glissentar – its distinctive sound reminiscent of a North African oud. As well as leading his own band, Meier has worked with the likes of Harry Beckett, Dave O'Higgins, John Etheridge and Bill Evans.
Gilad Atzmon has been described by John Lewis at the Guardian as the "hardest-gigging man in British jazz". His own albums, of which he has recorded nine to date, often explore political themes and the music of the Middle East. In 2000 he founded the Orient House Ensemble in London and started to re-define his own roots in the light of his emerging political awareness. Since then the OHE has toured all over the world.
Over the years Gilad Atzmon's music has moved more and more towards a cultural hybrid. As a bandleader and reed player he has been constantly amazing his listeners with a powerful personal style which combines great bebop artistry and Middle-Eastern roots in a sophisticated, sometimes ironical manner. Influenced by Coltrane's powerful approach on the sax, Gilad's live performances are simply breathtaking and overwhelming.
As well as being a member of the Blockheads, Gilad has also performed with, Robbie Williams, Sinead O'Connor and Paul McCartney, and recorded with Robert Wyatt, the Waterboys and many others. He is joined by fellow OHE member and drummer Asaf Sirkis who needs no introduction to Hebden Bridge audiences, having performed here at least three times in recent years. His playing and compositions also reflect Middle Eastern and North African influences, as well as the 70s fusion style of John McLaughlin's Mahavishnu Orchestra.
On bass is Australian-born Patrick Bettison who began his career playing jazz with multi-instrumentalist Bobby Wishartand and has subsequently worked with Tim Whitehead, Jim Mullen, Julian Arguelles, Django Bates, Gary Husband and many others. The Nicolas Meier Quintet's line-up is completed by the Barcelonan percussionist Demi Garcia who moved to the UK in 1999 to become a professional musician, and now specialises in flamenco, Afro-Cuban and Brazilian music.
HX7 Jazz is at the Trades Club in Holme Street, Hebden Bridge. Doors open at 7.30pm with live music starting at 8pm, and the headline band on soon after 8.30. Phone the Trades Club on 845265 to book advance tickets which are £12 and £9 concessions. HX7 Jazz moves temporarily to a Wednesday in December when Guitarist Stuart McCallum returns to the club – this time with No Good Beatniks.
There's more information about this and other coming events at www.hx7jazz.com.
Previous coverage of HX7 Jazz on the HebWeb