Horse logging demonstration, Hardcastle Crags
Tuesday, 5 February 2013
Further to our news item of 19th November (see below), the HebWeb has learned that there will be a horse logging demonstration in Hardcastle Crags on Tuesday 19th February from 11am-3pm.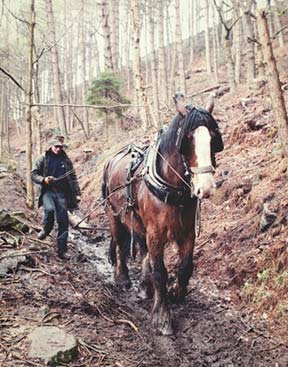 Nathan the heavy horse and his owner Peter will be working on site, pulling logs out of the woodland as part of the National Trust's woodland management scheme.
The ancient technique of horse logging has been used for hundreds of years, and provides a sustainable alternative to modern forestry vehicles, particularly on steep and rocky sites such as Hardcastle Crags.
During the demonstration will be able to meet Nathan and Peter, and chat to National Trust staff about their work to improve the woodland for wildlife.
See video of the heavy horse at work last autumn
Horse logging woodland management at Hardcastle Crags
Monday, 19 November 2012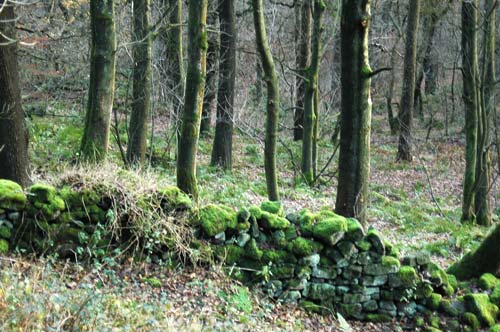 The National Trust's Hardcastle Crags and Gibson Mill team are expecting a visit from two companions to help progress the woodland management work that has been put into action.

Trained horse logger Peter Coates and his trusty Clydesdale, Nathan, will help staff and volunteers move the heavy timber around the site in order to make the necessary improvements at the estate in Hebden Bridge.

Staff, volunteers and local businesses began the woodland improvement works two weeks ago to help restore wildlife habitats, improve the landscape and most importantly maintain health and safety.

The Trust's plan proposes selective felling of non-native trees and the thinning of larch and pine plantations. This work will help species like the Northern Hairy Wood Ant, by creating open glades that will enable the ants to build new nests. It will also provide open areas for bats to forage for food whilst encouraging woodland birds by creating better nesting habitats.

Hardcastle Crags' ranger team, Drew Marsh and Ed Brightman along with National Trust volunteers will work alongside woodland co-operative Blackbark and local company Outdoor Classrooms to fell the trees identified in the plan, reducing the density of non-native trees and then have Nathan move the logs to suitable places.

Nabil Abbas, countryside manager of Hardcastle Crags, told the HebWeb: "Peter and Nathan first came to help us moving logs at the end of last winter so it's a pleasure to have them both back again. By literally harnessing horse power, we are able to extract logs from steep areas where heavy machinery cannot go, and Nathan doesn't leave any damaging tyre tracks. They will be helping us with our woodland work throughout the winter".

Many of the trees at the Crags were planted at least 130 years ago, which means that they are reaching the end of their natural lifespan and if left would pose a threat to people visiting the site.

Nabil continues: "The work we're doing will help restore the natural balance of the woodland as well as improving the overall appearance of the property, allowing visitors to walk safely around the site and enjoy the views of the Crags. We couldn't move all of the trees and logs without Peter and Nathan so we're very grateful for their help."

For more information please ring 01422 844518 or e-mail
See also:
Blackbark is a workers' co-operative committed to the health of woodlands in Calderdale and believes that by engaging with woodlands it benefits the land. A lot of their projects revolve around coppicing.
Outdoor Classrooms have been transforming and enhancing nursery gardens, community areas and playgrounds for three decades. All its timber is harvested in Yorkshire by its own woodland management team and the organisation only ever harvests where the primary concern is the welfare of the wildlife and woodland ecosystem.
Previous coverage of Hardcastle Crags on HebWeb