Mark Thomas plays the Trades Club
Monday, 26 November 2012
Update: sold out in two days. (29 Nov)
Comedian and outrageous political provocateur Mark Thomas brings his mix of laughs and debate to the Trades Club on Wednesday 13 February.
His blend of left wing politics and intelligent dismantling of what he sees as the hypocrisy inherent in Britain's political and economic systems is a natural fit for the Trades.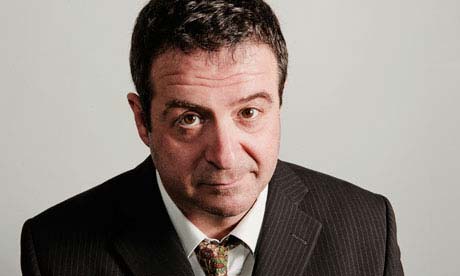 Mark will be performing his deeply personal award winning Bravo Figaro show based on his working class Tory father's love of opera which used to embarrass the youthful Mark. Since then his dad, Colin Alec Todd Thomas, was diagnosed with a disease called progressive supranuclear palsy, a degenerative and incurable condition that is often misdiagnosed as multiple sclerosis. This show about his dad, love, death and opera won a Fringe First award recognising outstanding new theatre work at the Edinburgh Fringe Festival 2012.
"We've been after Mark for ages and as this is one of his smallest gigs for some time we are expecting this to sell out very quickly," says Trades Club Ents Manager Mal Campbell. "Marks knows our history as a home for political debate in the valley so he was keen to come and add his own distinctive voice as we try to make sense of these troubled times."
No armchair activist Mark was added to the Guinness Book of Records for the most demonstrations held on one day with an impressive 20 individual protests in 20 different locations, and he was awarded an honorary doctorate by the University of Bradford, for services to peace and for his work as a comedian, political activist, presenter and investigative journalist. This was awarded for his effective campaigning challening the ethics of the arms trade as the University has a long-standing Department of Peace Studies.
The Trades runs benefits for the people of Gaza and in 2010 Mark decided to go rambling in the Middle East and walked the entire length of the Israeli Separation Barrier, making risky crossings between the Israeli and the Palestinian side.
Tickets for the show priced at £15/10 for members/unwaged go on sale at 9am at on Tuesday 27 November at the club or www.wegottickets.com.