Hebden Bridge's Chris Green invited to join UN Men's Network because of his pioneering role with the White Ribbon Campaign
Monday, 10 December 2012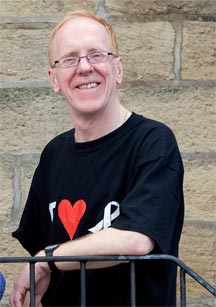 White Ribbon Campaign UK held its international WRC Day on November 25th and 2012 has been marked by an extraordinary achievement.
White Ribbon Campaign UK Director, Chris Green, has proudly accepted an invitation from The United Nations Secretary-General, Ban Ki-Moon, to join his Network of Men Leaders.
In 2009, to mark the 10th anniversary of the International Day for the Elimination of Violence Against Women, Ban Ki-Moon, Secretary-General of the United Nations, set up his campaign, UNiTE, to end violence against women throughout the world.
His stated aim was that: 'Men must teach each other that real men do not violate or oppress women – and that a woman's place is not just in the home or the field, but in schools and offices and boardrooms.'
Traditionally, most efforts to end violence to women had been made by women. To include men as part of the solution to ending violence against women he launched 'The Secretary-General's Network of Men Leaders'. A major new initiative to bring together current and former leading international politicians, activists, religious and community figures to 'add their voices to the growing global chorus for action'
This network supports women's groups around the world 'to defy destructive stereotypes, embrace equality and inspire men and boys everywhere to speak out against violence.'
Chris will be joining a group of highly acclaimed male role models including Nobel Peace award winners, Archbishop Desmond Tutu and Mohammed Yunus.
The work covered by the White Ribbon Campaign embraces all the responsibilities set out for members of the Network.
WRC actively promotes zero tolerance of violence to women and girls
Encourages people in sports and the world of entertainment to join the campaign and act as positive role models
Has developed education programmes for schools to encourage gender equality and promote the value of a society that is devoid of gender based violence
Promotes the aims of WRC, ( i.e. to get men to pledge to 'never commit, condone or stay silent about violence to women and girls'), through many channels including national and local media
Has brought on board many local authorities to become White Ribbon Accredited whereby positive action is taken to eliminate gender violence and support the victims of such
Supports the invaluable work of many women's groups to end violence to women
Has encouraged branches of WRC both here and abroad
Attends domestic and international conferences and meetings centred about preventing violence to women and girls
Runs training sessions to highlight gender issues and attitudes within society and how this might be changed
Gender-based violence is a very serious problem. Throughout the world 70% of women experience some form of physical or sexual violence from men.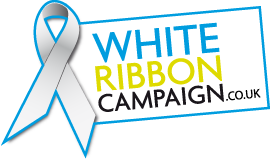 Recent research, (e.g. Professor Phippen, Plymouth University), has demonstrated that young boys exposed to internet pornography are committing violent acts in accordance with the images they have been exposed to. It has never been more important to address the issue of men's relationships with women and girls.
Chris Green, who was Cosmopolitan Man of the Year five years ago, is looking forward to using the value of his membership of this international group to make further inroads into reducing men and boy's violence to women.
White Ribbon Campaign info@whiteribboncampaign.co.uk
01422 886545
07941597584
UN webpage about Chris Green
Previous coverage of the White Ribbon Campaign on the HebWeb
HebWeb audio interview with Chris Green