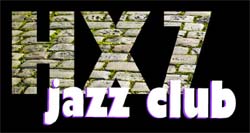 Stuart McCallum and No Good Beatniks
The final gig of the year at HX7 Jazz sees the return of acclaimed Manchester guitarist Stuart McCallum, performing this time with No Good Beatniks - a collective of like-minded musicians who operate as a jam band with the focus on dirty grooves and distorted jazz. Dishing out some great funky original music and somewhat warped covers, they create broken beats with a dancefloor vibe on vintage/analogue equipment and classic instruments.
The band has a variable size and line-up. but is coming to Hebden Bridge in its regular quartet form. Alongside Stuart McCallum who has performed and recorded with some of the most prominent contemporary jazz artists including Kenny Wheeler, John Surman, Mike Gibbs, Gwilym Simcock and Tim Garland, will be keyboard player Henry Botham, underpinned by the driving and infectious rhythms of Nick Blacka on bass and Rob Turner on drums.
Nick Blacka has jazz credentials with the likes of Dave O'Higgins, Ben Clatworthy, and Nitin Sawhney and Alan Barnes, but has also toured with UK hiphop / electronica pioneer Aim. Rob Turner is also the drummer with the Magic Hat Ensemble and has performed with Any Shepherd, Mike Walker, Neil Yates and many more jazz luminaries.
Henry Botham is well known to Hebden Bridge music lovers in his other role playing stride piano and New Orleans jazz with 52 Skidoo. He also has his own jazz trio HB3, and plays Hammond organ with Manchester-based Latin Jazz big band RSL.
No Good Beatniks come to Hebden Bridge on Wednesday December 19th as HX7 Jazz moves to a Wednesday:-the change from its regular Thursday slot being brought about by the proximity of the festive season. "Stuart McCallum performed at the club with his own trio this time last year and the place was packed out," said HX7 Jazz organizer Dave Nelson. "It's a real pleasure to have him back here in this quite different setting and I think we can expect an equally brilliant and memorable night."
HX7 Jazz is at the Trades Club in Holme Street, Hebden Bridge. Doors open at 7.30pm with live music starting at 8pm, and the headline band on soon after 8.30. Phone the Trades Club on 845265 to book advance tickets which are £12 and £9 concessions.
HX7 Jazz returns in January with Canadian drummer Katie Patterson's Allsorts Band, followed in February by the Julian Costello Quartet and by Get The Blessing in March. There's more information about these and other forthcoming events at www.hx7jazz.com.
Previous coverage of HX7 Jazz on the HebWeb