Dave Nelson's Christmas Singalong
Wednesday, 12 December 2012
It's that time of year again. Time that is, for Dave Nelson's Christmas Singalong: a community tradition going back more than 20 years. It's taken place at various venues but for the last few years it's been at Wainsgate Chapel, or rather, in the Sunday School.
This year the raucous goings on around Dave's piano will be complemented by songs from local carollers Wainsgate Waits, plus Menfolk Waits, jazz singer Mandy Doyle, multi-instrumentalist Peadar Long and members of The Hepton Singers.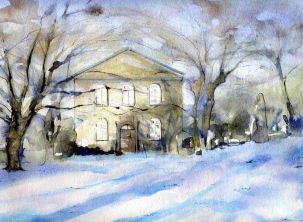 There'll be mulled wine and mince pies and plenty of festive spirit. 'Wainsgate Sunday School is a great venue for this type of community event', said co-organiser Jan Scott Nelson, 'though we do encourage people to wrap up warm.'
The Christmas Singalong is to be held on Saturday December 22nd at 4.30 pm until about 7. Doors will open at 4pm.
Tickets cost £8/£6/£2 (under 19s) and are only available on the door.
All funds raised will be ploughed back in to maintaining Wainsgate Chapel and Sunday School.
Wainsgate Chapel is on Wainsgate Lane, Old Town, Hebden Bridge HX7 8SU. Parking there is limited and reserved for disabled drivers. There are plenty of footpaths for those who'd like to walk, or there's an hourly bus service to Old Town Mill Lane (opposite Wainsgate Lane) where parking is also available. More information at about the venue and future events can be found at www.wainsgate.co.uk.