Re-launch of Hebden Bridge Walkers Action (HBWA)
Monday, 21 January 2013
Following the meeting held on January 13th, HBWA will continue for another six months to work on four projects - Problems with footpaths, 906 bus, self guided walks and Walkers are Welcome status:
Problems with footpaths
You have to be persistent to report footpath problems to Calderdale Council, so HBWA website now has an on line form for reporting problems. The form will go to Calderdale Rights of Way department and be monitored by HBWA. Everyone is encouraged to use the form to report footpath problems they come across, particularly in the light of recent flooding.
906 Bus
This bus runs at Easter and then from May to end of September going from HB rail station to Midgehole and Widdop. The 906 was vulnerable to being cut, but Metro has agreed to another year, allowing HBWA produce a booklet of walks to promote the route. More details to follow when negotiations with Metro are complete
Self guided Walks
These three walks designed and produced by HBWA and going from the centre of Hebden to Heptonstall, Stoodley Pike and Hardcastle Crags are now out of print. The walks will be checked, updated and reprinted if funding can be obtained.
Walkers are Welcome Status
Hebden Bridge needs some good publicity following the floods so it was agreed to re-launch the Walkers are Welcome brand, especially as Hebden Bridge was the first and now there are100 Walkers are Welcome towns. To do this, it would need to involve the Town Council, the Business Association, Calderdale Tourism department, local walking shops and people providing accommodation.
For further details see www.hbwalkersaction.org.uk
If you are interested in helping with any of these activities, contact HBWA through the website
Hebden Bridge Walkers Action Relaunch
Thursday, 27 December 2012
Hebden Bridge Walkers Action (HBWA) are holding a Relaunch on Monday January 14th, 7.30 at Hebden Bridge Town Hall, anyone with an interest in walking is welcome. This is a chance to explain and discuss current activities such as promoting the 906 bus to Widdop, a new route to Hardcastle Craggs, a new system for reporting problems with paths and Hebden Bridge being a Walkers are Welcome town.
HBWA are also looking for suggestions for other walking issues in the area which HBWA should be working on.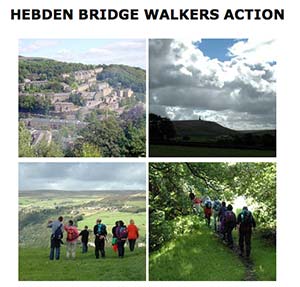 For more details about the relaunch see the newly revised HBWA website and select the latest news page.
One ideas the group are discusssing is a new route to Hardcastle Craggs
This has been under discussion for some time and some initial work has been completed. HBWA now needs a small group of people to move on to the next stage of negotiation and securing funding.
Hebden Bridge was the first Walkers are Welcome town, now there are 100. In order to keep our WAW status, HBWA need to identify what else could be done to maintain a welcome for walkers.