Friday, 25 January 2013
Picture House: Parent and Baby screenings
The New Year brings with it new things at the Hebden Bridge Picture House.
Starting this January, Parent and Baby screenings will be part of the Picture House programme. The screenings will take place once a month, on a Tuesday morning and will be exclusively for parents and their babies.
The lights will be turned up a little (and the sound down a notch or two), to help create a stress-free, friendly and relaxed environment where parents or guardians can enjoy the latest film with their babies.
The practicalities have also been taken care of to make a trip to the Picture House as easy as possible. The unique auditorium means that there is plenty of leg room for baby car seats, bags and other items as well as there being storage at the back for pushchairs. There is level access throughout for prams and pushchairs via the emergency door to the right hand side of the cinema and of course baby changing facilities have been installed in the foyer's accessible toilet.
Tues 29th January: Life of Pi (PG)
Tues 12th February: Les Misérables (12A)
at 10.30am (films start at 11am)
The Parent and Baby screenings are part of the continued improvements to the Picture House which have occurred since Hebden Royd Town Council took over its ownership and management in 2012. The new Manager, Rebekah Fozard is passionate about ensuring that the Picture House can be enjoyed by the whole community and the Parent and Baby screenings are an important step in making the Picture House more accessible.
'There have been many requests for this type of screening' said Rebekah Fozard ' and we hope that it will open up the cinema to mums, dads and carers who might not typically attend, with the timing of traditional screenings clashing with bath and bed time or through fear of disturbing other members of the audience if baby decides that they don't like the film! In addition it gives the opportunity for interaction with other adults - time to share a coffee and conversation'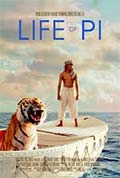 The first film to be shown as part of these screenings is Life of Pi (PG) on Tuesday 29th January. Adapted from Yann Martel's best-selling novel, the story centres on Pi Patel, the precious son of a zookeeper. After being shipwrecked whilst on passage from India to Canada, Pi is found adrift on a lifeboat with a zebra, a hyena, an orang-utan and a 450 pound Bengal tiger . . . all fighting for survival.
This is followed by the long awaited and eagerly anticipated Les Misérables (12A). Join us on the 12th February as the world's longest running musical brings its power to the big screen in this sweeping and spectacular interpretation of Victor Hugo's epic tale.
Tickets for the Parent & Baby screenings are at the reduced rate of £5 (no other discounts apply) and include a free hot drink or glass of squash. The programme begins at 10.30 (doors open at 10.15) and the film begins at 11.00.
Please note only adults with babies/ young children can be admitted to this screening.