Jim Davidson and Noel Gallagher Nemesis' for Comedy Club
Sunday, 10 February 2013
Moving to the upstairs room at The Old Gate was certainly a shrewd move for The Hebden Bridge Comedy Club as four of the last five shows have sold out in advance. Sunday 10th March promises to be no exception with three great comedians all appearing in the town for the first time.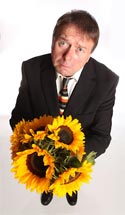 Liverpool's Steve Gribbin is regarded as one of the most productive acts on the circuit. Steve was one half of Eighties comedy duo Skint Video who were at the forefront of the burgeoning 'alternative comedy' scene. After 13 years, Steve went solo and now specialises in bang up to the minute, short sharp, topical songs. Steve has performed around the world and has appeared at every Glastonbury Festival for the last twenty years.
His proudest achievements to date are upsetting Jim Davidson to the point where he described him on his blog as a "Socialist Scouse ****'' and his parody song of Oasis that resulted in Noel Gallagher sending word via his management that he was really upset about it!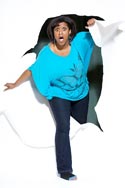 Dana Alexander has certainly caused a stir on UK shores since arriving from her native Canada. With a style that is both refreshing and irreverent Dana talks about everything from family to sex to culture with a down-to-earth and world sensibility. Dana's recent appearance on Russell Howard's Good News has endeared her to British audiences and we are delighted to have Dana at The Hebden Bridge Comedy Club for the very first time. "A powerful and composed performer." Chortle
Manchester's Danny Sutcliffe takes the middle spot and Todmorden's Martin Mor comperes. Tickets are on sale now at £8 each either from the Old Gate, Hebdebn Bridge or online at www.hebdenbridgecomedy.co.uk Further info on 07874 152 338