The Mummyfesto: author Linda Green's new novel is based in a Hebden Bridge at the centre of a political revolution
Tuesday, 12 February 2013
Hebden Bridge is at the centre of a political revolution in the latest novel from bestselling Calderdale author Linda Green.
The Mummyfesto tells the story of three mums from Hebden Bridge who, after successfully campaigning to save the job of a lollipop lady, decide to set up a new political party and stand in the general election.
The Lollipop Party, which pledges to put children and families at the heart of its policies, gains massive support through social network sites, causing a surge in the polls and the national media to be camped outside its fictional headquarters in Fountain Street, Hebden Bridge.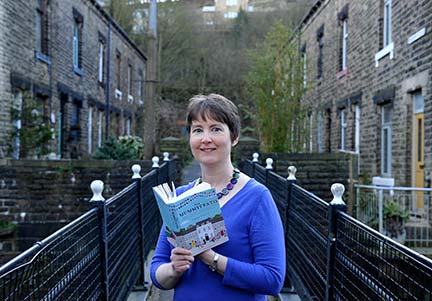 Author Linda, whose previous four novels have sold more than 200,000 copies between them, says the novel has already secured a book of the week slot in WHSmith and she is hoping it will prove to be her most successful work yet.
"The idea for the book came to me during the 2010 general election campaign when women's voices and women's issues were conspicuous by their absence. I was keeping my husband awake one night talking about how a bunch of mums could make a better job of it and he suggested writing a novel about it. The ploy worked; he got to sleep and I started plotting a fictional revolution.
"I'm also the Chair of the Hebden Bridge-based Handmade Parade, and our planning meetings are held around our kitchen table, which got me thinking about just how big an event you could organise from a kitchen table.
"The three main characters, Sam, Anna and Jackie, are all struggling with problems in their family lives and I loved the idea that they might come together around Sam's kitchen table to try to put the country to rights.
"It occurred to me that if a political revolution was going to happen anywhere, Hebden Bridge was the obvious place to stage it."
Linda, who prior to her career as an author spent 15 years in journalism and taught creative writing for the Workers Educational Association in Hebden Bridge and Todmorden, said: "I had enormous fun writing the book and I hope readers enjoy spotting all the local landmarks. It's the third of my novels to be set in Hebden Bridge and I've had a lot of positive feedback from readers about what a refreshing change it is to have a novel set outside London in such an interesting and beautiful place."
Linda, aged 43, who lives with her husband and son in Halifax, is also inviting Heb Web readers to vote on what they'd like to see in a Mummyfesto via her website.
The Mummyfesto will be published by Quercus on February 14.
See also:
HebWeb News: Bestselling local author Linda Green to sign new novel (October 2011)
HebWeb News: Hebden Bridge novel funds donation to White Ribbon Campaign against domestic violence (April 2009)